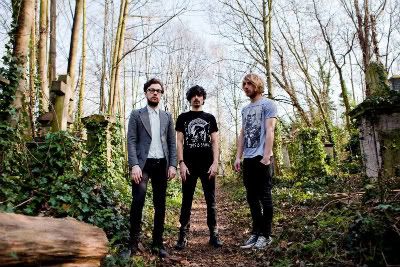 YOUNG LEGIONNAIRE
, the brainchild of Gordon Moakes (Bloc Party) and Paul Mullen (yourcodenameis:milo), have issued the video for forthcoming first single, 'Numbers'.
The video premiered yesterday exclusively on
www.Spin.com
and is today's "video of the day":
http://www.spin.com/articles/exclusive-bloc-party-bassist-debuts-heavy-band
. The clip can also be viewed here:
http://www.youtube.com/watch?v=j_DMfPOjfoU
.
Directed by Justin and James Lockey, the clip showcases the band's frenetic style and heavy, melodic sound. Produced by Rich Jackson (Future Of The Left) "Numbers" will be available digitally on May 2nd, followed by the released of their debut album, Crisis Works, on May 10. The band are playing a string of shows in the UK prior to album release including shows alongside DFA1979, Pulled Apart by Horses, appearances at Live at Leeds, Liverpool Sound City and the Camden Crawl. Following that, they will be playing shows across Europe.
Full list of confirmed dates below.
YOUNG LEGIONNAIRE initially started following a chance meeting between Paul and Gordon during the recording sessions for the Print Is Dead album in 2006, where Gordon guested on the track 'Wait a Minute' with Paul and the rest of YCNI:M. Some more meetings and conversations followed, eventually leading to their first rehearsals together as a band in 2009. Now joined by full time drummer Dean Pearson, 2011 will see the fruits of their labour.
The album is about noise, volume, being heavy and being loud, as Gordon puts it; '(We wanted) To make a big, juddering noise but weave a trail of melody through it'. He goes on; 'Even though the format of guitar, bass, drums and vocal is established, is nothing ground-breaking, the possibilities are endless. There's always another riff to write, a heavier sound to find. And we're looking for the magic in the gaps between the riffs too. There's a tenderness to it, a fragility almost, that we stumbled upon, and I'm inspired by that, to discover that. The record is about the brutal, the fragile and the possible.'
Young Legionnaire upcoming shows:April
28th - Brighton – Jam w/ Pulled Apart by Horses / 30th - Leeds - Live at Leeds
May
1st - London - Camden Crawl
4th - London - The Forum – w/ Death From Above 1979
7th DE - Stuttgart – Zwoelfzehn
8th DE – Heidelberg – HÄLL
9th DE – Aachen – AZ
10th CZ – Praha – Klub 007/
11th DE – Rosenheim – Asta Kneipe
12th DE – Oberhausen – Druckluft
13th DE – Berlin – Karrera Club Party
14th DE – Freiburg – Swamp festival
15th DE – Regensburg – Heimat
20th – Liverpool - Sound City