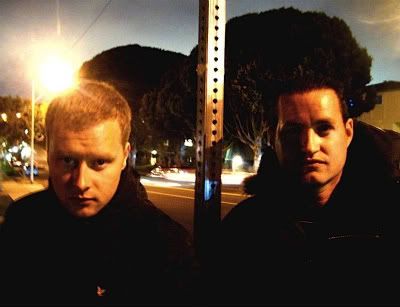 the Definitive
are a diverse, punk-inspired, heavy indie / rock, British 2-piece project that incorporate elements of electronic and dance influenced music into their sound. The project consists of 2 close friends who grew up together and have spent valuable time honing their craft on the sacred ground of the North West of England, an area that has given birth to the likes of The Smiths, Joy Division, Buzzcocks, The Stone Roses, Oasis, Doves, etc.
Now having soaked up those influences and re-located to Los Angeles to write and record their debut, the duo along with a full live band plan to hit the road in the US and release their already completed Trever Keith - produced full length this summer. Keith, the front man for punk icons Face to Face, produced and sings on the duo's amazing first single 'The Start' which can be heard here:
www.youtube.com/thedefinitivemusic
.
Purchase 'The Start' on itunes:
http://itunes.apple.com/us/album/the-start-single/id400333073
BECOME A FAN ON THE BAND'S FACEBOOK PAGE
www.facebook.com/thedefinitivemusic
AND SIGN UP FOR A LINK TO A FREE DOWNLOAD OF ANOTHER NEW TRACK 'CULTURE CLASH'.
www.twitter.com/thedefinitive
www.youtube.com/thedefinitivemusic
www.thedefinitivemusic.com