Manafest
has it all. A fresh, inventive sound that borrows equally from hip-hop, rap and some of the more sonically tuned elements of rock and roll? Check. Over 100,000 albums sold worldwide? You got it. Over 1,000 live shows performed in four continents over the last six years? No question.
And now Manafest (AKA Chris Greenwood) is releasing three back-to-back music videos featuring some of the most poignant tracks off of his latest full-length album The Chase. 'Bring The Ruckus' is the first in the series and it packs quite the punch. Directed by Chris Stacey, 'Bring The Ruckus' features fight choreography from the same trainers who worked on Jet Li's smash movie 'Hero.' Throughout the video, Manafest channels his inner Jet Li; he battles his inner demons, personified by a series of vicious street fighters. These fight sequences are interspersed with shots of a rabid, adoring crowd which give weight to the song's angst-filled yet ultimately optimistic undertones.
Displaying intensely personal emcee skills, Manafest fuses his gutsy take on hip-hop with aggressively tuned rock. 'Bring The Ruckus' is the kind of video which will stay with viewers long after it fades out and the battle is won.
The next video in the series will be 'Everytime You Run,' one of the record's most moving tracks featuring a radio-ready chorus that elevates the track to epic new heights. The video tells the dramatic tale of a car crash, highlighting Manafest's emotional appeal. He's no softy, but certainly knows how to captivate audiences as the protagonist of the video comes to terms with his fate.
Completing the series is the video for 'Renegade' featuring Trevor McNevan from Thousand Foot Krutch and judging from the still pictured above, these videos will only add to the list of accomplishments in what is quickly becoming a storied musical career for Manafest.
His accolades speak for themselves, and his future is full of poise and promise. Manafest has already received a Juno nomination and The Chase has sold 30,000 copies worldwide within a year of its release. His videos have been featured on MuchMusic and have received heavy rotation on MuchLoud. February sees him touring New Zealand with a US tour in the spring with Superchick playing 800 plus capacity venues.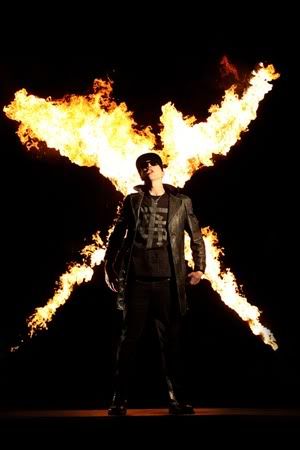 Watch 'Bring The Ruckus' here:
http://www.youtube.com/watch?v=BrByt2YYMBw
More info + music here:
http://www.manafest.net