Band Completed Recording New Album At Salad Days Studios With Producer Brian McTernan
Album Due Out This Spring On Triple Crown Records
The Man Scout Jamboree Co-Headline Tour With The Wonder Years And Openers Such Gold, Make Do And Men and Living With Lions
Starts April 8 In Lansing, MI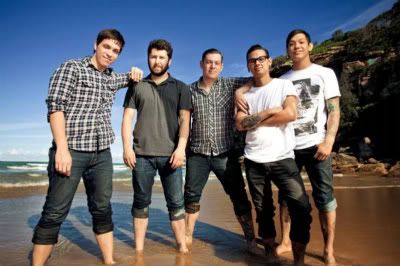 Detroit's Fireworks have just released an in-studio album teaser to give fans a sneak peek at what they can expect from the band's upcoming full-length on Triple Crown Records, scheduled for release sometime this spring. The band recorded the album with producer Brian McTernan at his Salad Days Studios.
Check out the clip here:
http://www.youtube.com/user/fireworks666?blend=2&ob=5#p/a/u/0/OHouNH_9ycI
.
Be sure to catch Fireworks on their co-headline The Manscout Jamboree Tour with The Wonder Years featuring support from Such Gold, Make Do And Mend, and Living with Lions. The tour kicks off April 8 in Lansing, MI (see dates below).
The Man Scout Jamboree tour dates and ticket links:
04/08/11 Lansing, MI- The Loft (
www.fusionshows.com
)
04/10/11 Covington, KY- Mad Hatter (
www.cincyticket.com
)
04/12/11 Dekalb, IL- The House Café (
www.yourticketstand.com
)
04/13/11 Des Moines, IA- The Vaudeville Mews (
www.midwesttix.com
)
04/14/11 Omaha, NE- The Waiting Room (
www.etix.com
)
04/15/11 Wichita, KS- The Oz Café (
www.kpconcerts.com
)
04/16/11 Colorado Springs, CO-Black sheep (
www.ticketweb.com
)
04/18/11 Sparks, NV- The Alley (
www.ticketweb.com
)
04/19/11 Stockton, CA- Plea for Peace Center (
www.tgptix.com
)
04/20/11 Fresno, CA- Club Retro (
www.tgptix.com
)
04/21/11 Bakersfield, CA- Jerry's (
www.tgptix.com
)
04/22/11 North Las Vegas, NV- Area 702 (
www.ticketfly.com
)
04/24/11 Tucson, AZ- Skrappy's (
www.ticketmaster.com
)
04/25/11 Albuquerque, NM- Launchpad (
www.launchpadrocks.com
)
04/27/11 Austin, TX- Emo's (
www.ticketweb.com
)
04/28/11 Oklahoma City, OK- The Conservatory (
www.ticketstorm.com
)
04/29/11 Little Rock, AR- Downtown Music
04/30/11 Nashville, TN- Rocketown (
www.ticketweb.com
)
05/01/11 Birmingham, AL- The Firehouse (
www.kapiro.com
)
05/03/11 Pensacola, FL- Big Easy Tavern (
www.ticketweb.com
)
05/04/11 Pembroke Pines, FL- That Talent Farm (
www.kapiro.com
)
05/05/11 Jacksonville, FL- The Pit (
www.foryourfriends.bigcartel.com
)
05/06/11 Augusta, GA- Sector 7G (
www.kapiro.com
)
05/07/11 Raleigh, NC- The Brewery (
www.etix.com
)