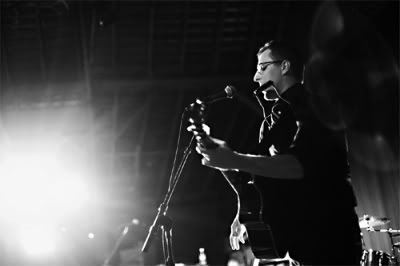 You know what they say: location, location, location. Dustin Edge has taken inspiration from locales that range from Kentucky, to New York, to Prague, to create his latest EP, Calm. The EP represents a culmination of his travels, and a clear focus in creating a sound that places him amongst the ranks of the most skillful singer/songwriters. After two prior releases, Calm finds Edge turning to a solo acoustic effort, and offers an easily accessible experience for fans of the indie folk scene.
MP3 "CALM"
http://www.dustinedge.com/sounds/the_calm_ep.mp3
Edge grew up in Louisville, Kentucky, where he played in various punk bands until beginning to incorporate sounds more rooted in the bluegrass spectrum during his college years. He moved to New York in 2008, and the vibrant energy of the city inspired his first solo album, A Forest Through The Trees, under his own moniker. The delightful full-band texture infused elements of pop, indie, and even took a few cues from his experimentation with bluegrass. In 2010, By The Numbers kept the momentum going strong after Edge went overseas to Prague, and transposed his new inspiration into an eclectic, up-tempo collection.
Calm, was recorded in Brooklyn and takes a sharp contrast to his previous works. The sound is often hushed, smooth, and represents the kind of simple happiness that many seek to find amidst the rushed energy of New York. The five songs on Calm showcase a Nick Drake/Bert Jansch-inspired acoustic folk style that carries musical poise and vocal tranquility similar to Joshua Radin or Philip Selway. Edge describes the EP as being "laden with ruminations on the search for contentment among tumultuous times." "New York City can be a beast," he says, but the songs come across with utter clarity and composure.
FOR MORE INFORMATION
www.dustinedge.com
www.myspace.com/dustinedge
www.twitter.com/dustinedge
www.facebook.com/dustinedgemusic