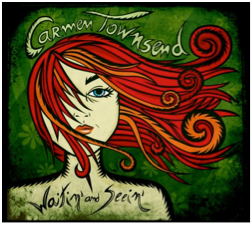 Comparing
Carmen Townsend
to other singer songwriters would be a fruitless task. Hers is a unique path, and her voice is one that ebbs and flows, taunts and teases, rising and falling with acrobatic ease. If she told you she was a musician, you might be quick to assume her time was spent strumming away in coffeehouses, but it's been a solid fifteen years of Carmen earning her keep in rock bands all across Canada that begs to differ.
Born and raised in Cape Breton, Nova Scotia, Townsend has been making music her whole life. Using all the experience she gained playing in bands in big cities, Carmen returned to the ocean and her home in Cape Breton to nurture her own sound. And now with the release of her long anticipated debut record
Waitin' and Seein'
the time has come for her to take centre stage.
Tracked at Carriage House Studios in Connecticut and Soundpark Studios in Cape Breton and produced by Gordon Gano of Violent Femmes,
Waitin' and Seein'
is raw, melodic, at times abrasive and entirely heartbreakingly gorgeous. Opening with the rollicking groove of 'River Rat', the album immediately strikes a chord on two levels: Townsend's live-wire sound is vast, with stretching riffs that build into a fierce sonic motion. Her vocals then complete the circle; earthy and enduring, her voice becomes a powerful instrument all on its own. Melodies abound on Waitin' and Seein', truly exposing Townsend's depth as a songwriter. Her soft side is exposed through an array of acoustic-leaning tracks, from the rumble of 'Sweet Little Bird' to the transcendental charm of 'All That Was Left.'
In addition to the new album, Carmen's rendition of 'Everybody Knows This is Nowhere' was featured on an all female Neil Young tribute compilation in 2008. Her vocal talent was also featured in the award winning indie film "Just Buried" and she has put her own spin on two songs from Grammy award winning songwriter Jesse Harris (Norah Jones, Bright Eyes) for an upcoming album. Carmen has shared stages with acts including The Rheostatics, Matt Mays, Blue Rodeo, Wintersleep, Hey Rosetta!, Sloan, and Joel Plaskett.
Waitin' and Seein' was released November 19th in Australia (Code One/ABC/Universal) where Carmen will be touring the entire month of December. With support already from Grant Lawrence's CBC Radio 3 podcast, the album will be released shortly after her return to Canada on January 25th, 2011 (Company House Records/EMI).
For music and more info please visit:
www.carmentownsend.ca