Event:

The Perfect Transcription - A Spacemen 3 & Spiritualized party (in aid of Natty Brooker)


Location:

The Piston – 937 Bloor St. West – Toronto, Canada


Date:

Saturday December 4th, 2010


Time:

Doors @9:30pm – first band at 10pm

On Saturday, December 4th 2010 at The Piston (937 Bloor W.) members of Toronto's shoe-gaze/space­rock/psych-rock and folk music scenes will come together for a very special live musical tribute to underground music pioneers: SPACEMEN 3 & SPIRITUALIZED
The event, titled: THE PERFECT TRANSCRIPTION (a play on the title of a Spacemen 3 LP called The Perfect Prescription) is not just your average music tribute show though. This show has a very special purpose, and that purpose is to help support an important contributing member (both musically and visually) of both Spacemen 3 & Spiritualized named NATTY BROOKER, who is very ill and struggling to get by.
Natty Brooker, was the original drummer for Spacemen 3, and was also the artist responsible for much of the bands artwork and overall aesthetic. Natty introduced founding members Pete Kember and Jason Pierce (aka Jason Spaceman and Sonic Boom) to blues and gospel music (a major influence on their respective sounds); he played drums on the first Spacemen 3 album Sound of Confusion; and also appeared on the classic demos release Taking Drugs to Make Music to Take Drugs To.
It was also Natty's iconic Devil and Angel original artwork design that adorned the first Spiritualized album cover "Lazer Guided Melodies", and it was his endlessly recurring threes that graced the last Spacemen 3 album "Recurring".
Sadly, Natty has been diagnosed with terminal cancer and has been unable to work due to his illness, and those nonexistent Spacemen 3 music royalties just don't pay his bills (which is a sad reality for many underground or "critically acclaimed" musicians/artists who are stricken with debilitating illnesses).
So… seeing that many of Toronto's shoe-gaze/space-rock/psych-rock and folk musicians claim Spacemen 3 & Spiritualized as a major musical influence… The idea to enlist their help in performing at this important tribute benefit show for Natty came quite easily for show organisers: Davy Love (DJ and founder of Blowup and Spacemen 3 Spiritualized fan) and good friend: Will Carruthers (former bass player for Spacemen 3/Spiritualized).

The Perfect Transcription - A Spacemen 3 & Spiritualized party (in aid of Natty Brooker)

In addition to the live music element… this event will also celebrate the fantastic, mind-bending artwork of Natty Brooker. Will Carruthers has arranged to have some of Natty's famous artwork adorn the walls of The Piston as he did at galleries in Los Angeles, London, Sheffield, Berlin, and New York over the past 6 months.
Will has even arranged for some very limited edition, signed and numbered prints of Natty's work including the iconic Angels & Devil, and Recurring 3's to be shipped from the UK, and sold at this event.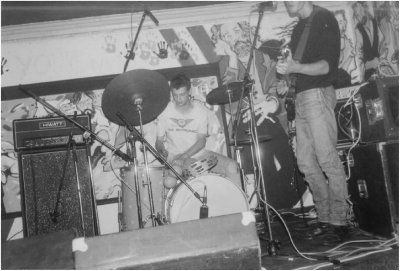 The musical line-up for the evening is as follows:


Speedway (specially reunited for this show only!) * Flowers Of Hell * The Hoa Hoas
The Pow Wows * The Blooming Rosebuds * Drunk Woman * The Disraelis
Ostrich Tuning * The Auras * The Mighty Oaks * Proof of Ghosts
Panarama * Hollowphonic * Make Joy Cry

Plus some very cool, secret surprise guests!!!
100% of the profits from the show will be go directly to Natty Brooker
Watch the concert live (along with Natty from his apartment in England) here: http://www.livestream.com/voodootv1

The cover charge for this show is by donation/pay what you can.
Paypal donations can be sent directly to: hallucinatoryart@live.co.uk

A link to Natty Brooker's site: http://www.nattybrooker.co.uk/gallery.html