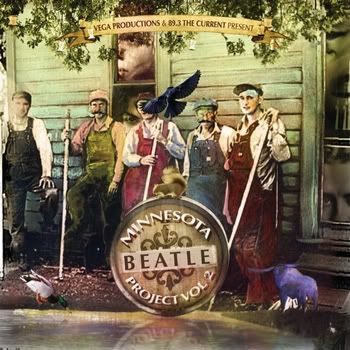 The Beatles
haven't been a band in over forty years, but the spirit of the Fab Four still lives on strong. The most recent example being this week's monumental announcement of the band's catalog now being available digitally on iTunes. Following that announcement, this December, sixteen bands consisting of more than 125 musicians will release the Minnesota Beatle Project Vol. 2 to help fund music and art education programs in Minnesota. This program puts instruments, supplies, and tools in the hands of young artists and musicians across the state.
The new collection of 16 originally arranged Beatles cover songs recorded exclusively for the project, will hit store shelves December 8th. The LP features songs by standout artists with Minnesota roots, ranging from Soul Asylum and Mason Jennings, to P.O.S., Cory Chisel, and 3-time Grammy Award winners Sounds of Blackness. The album also features the Edison High School Concert Band, located in Northeast Minneapolis, which was a 2010 grant recipient of more than 50 instruments.
Minnesota Beatle Project Vol. 2 will be available in CD, digital and new limited-edition double LP vinyl formats. It can be purchased online at Target.com and at Minnesota Target stores. It also will be sold at independent record stores throughout the country, and songs will be available for download through iTunes, Amazon, CD Baby and Rhapsody.
Vega Productions, which produced the album, will donate one-hundred percent of net proceeds from the sale of the album to enhance music and art education programs for children in Minnesota public schools. The Vol. 1 compilation raised $25,000, which was distributed through grants to schools throughout Minnesota. The grants helped purchase new brass, woodwind and percussion instruments, music education software, sheet music, instrument repairs, art supplies and even a pug mill and kiln. Vega Productions established the Minnesota Beatle Project in 2009 in partnership with presenting sponsor 89.3 The Current.
Minnesota Beatle Project Vol. 2 Tracklisting
1 - Good Morning Good Morning – Soul Asylum
2 - Revolution – Total Babe
3 - Child Of Nature – Mason Jennings
4 - Fixing A Hole – Cory Chisel & The Wandering Sons (Humans Win! Remix)
5 - Real Love – Lookbook
6 - Happiness Is A Warm Gun – A Night In The Box
7 - It's All Too Much – Polara
8 - Tomorrow Never Knows – Meat Puppets feat. Alison Scott
9 - I Am The Walrus – Pert Near Sandstone
10 - Michelle – The New Standards
11 - And Your Bird Can Sing – Rogue Valley
12 - Dear Boy – P.O.S.
13 - I Want To Hold Your Hand – Edison High School
14 - Golden Slumbers – Communist Daughter
15 - Hey Jude – Sounds Of Blackness
16 - Good Night – Curtiss A's D'Lando Flaques ffaire *Rockestra