Alfa Matrix
presents massive
EBM 4CD boxset: Electronic Body Matrix 1
.
The Belgian label Alfa Matrix announces a real "who is who in the current EBM scene" 4CD boxset (+ attached downloadcard) uniting no less than 112 artists bringing rare are exclusive tracks. The full tracklist can be viewed at the dedicated website
www.alfa-matrix.com/ebm1
. Expect material Front 242, Nitzer Ebb, Portion Control, Covenant, Pouppee Fabrikk, Funker Vogt and so on and so on. 112 bands in total! Titled
Electronic Body Matrix 1
this new compilation series runs across 4 CD's plus an exclusive download card giving you access to another 40 additional bands for a total music play more than 500 minutes. Promised are over 70% rare or previously unreleased tracks.
The set is marketed as a deluxe carton box with an extensive 28-page booklet with
band pictures and credits designed by the American artist Greg Rolfes. "Electronic Body Matrix 1" also marks Alfa Matrix's 10 years of existence. Says Seba Dolimont: "Through this set we are revisiting the roots of the old school 'Electronic Body Music' movement and bridging them together with the current electronic sound. The sampler pays homage to the various branches of the electronic music genre throughout the last decades, gathering pioneers, leading figures of today's scene, rising new talents and artists who deserve to be discovered. This is NOT simply a re-release of new wave EBM classics, but fresh new music!" Recommended if you want to know how the current EBM scene is sounding today. The label presents the release in various packages, check
www.alfa-matrix.com/releasedates.php
for more info.
-------------------------------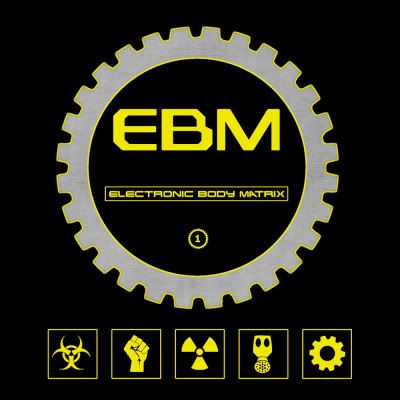 TRACK-LISTING
EBM1.CD1
101. KOMOR KOMMANDO . rhythm machine . 102. X MARKS THE PEDWALK . seventeen (NOISUF-X mix) . 103. SPETSNAZ . mangod . 104. PORTION CONTROL . amnesia . 105. PSY'AVIAH feat. AYRIA . into the game (SIGNAL AOUT 42 mix) . 106. AD:KEY . pissed off (video edit) . 107. RESTRICTED AREA . bulldozer . 108. IONIC VISION . q and a (alternate) . 109. NORDARR . du . 110. SERPENTS feat. PNE . komm noch naeher . 111. [SITD] . catharsis (heal me, control me) . 112. NECRO FACILITY . do you feel the same . 113. MALAKWA . monster . 114. CUBANATE . we are crowd (v1.6) . 115. KLUTAE . electro punks unite (anarchy remix) . 116. VOID KAMPF . einsamkeit (club attack mix by STERIL) . 117. ELITE! . harte liebe . 118. THE PAIN MACHINERY . armed! (rmx)
EBM1.CD2
201. FADERHEAD . destroy improve rebuild . 202. AGREZZIOR . shout . 203. TURNBULL A.C'S . we can drink without having fun . 204. E-CRAFT . rearrested (v1.0) . 205. COMBICHRIST . never surrender (TERENCE FIXMER remix) . 206. ASCII.DISKO . jawbreaker . 207. THE NEON JUDGEMENT . i cut loose (bodyspasm vs. DDD remix) . 208. V01D feat. AYRIA . weakener (growing stronger - short mix) . 209. KRYSTAL SYSTEM . automatic ideology (body edit) . 210. 32CRASH . the man who came from later . 211. POESEIE NOIRE . we'll die dancing . 212. ROTERSAND . waiting to be born . 213. ESSENCE OF MIND . indifference (KANT KINO mix) . 214. NEUROBASH . breaking patterns (reedit) . 215. DIFFUZION . dbd (while u can) . 216. CULTURE KÜLTUR . sieged . 217. DEN.C.T.BUG . gotteskrieger (FUNKER VOGT mix) . 218. NOORGLO . addict
EBM1.CD3
301. FRONT 242 . body to body (2 trax) . 302. PATENBRIGADE: WOLFF . popmusik für rohrleger (matrix edit) . 303. COVENANT . lightbringer (spreedrun) . 304. NITZER EBB . down on your knees (KANT KINO mix) . 305. ANGEL THEORY . every time I look at you . 306. R.I.P. (ROPPONGI INC PROJECT) . riperbahn . 307. STUDIO-X . body music . 308. ISIS SIGNUM feat. DREY . music is my heart (alternative version) . 309. CELLULOIDE . et si… (nouveau mix) . 310. NACHTMAHR . mädchen in uniform (FADERHEAD mix) . 311. FUNKER VOGT . fire & forget . 312. STURM CAFE . die wahrheit . 313. ARMAGEDDON DILDOS . untergrund (DARKMEN mix) . 314. LEAETHER STRIP . strap me down (body machine mix) . 315. SUICIDE COMMANDO . death cures all pain (KANT KINO edit mix) . 316. AMGOD . stigmata 2010 (traumatic brain injury mix) . 317. INDIVIDUAL TOTEM . lost souls (nordschlacht dance remix) . 318. MENTALLO & THE FIXER . legion of leper (re-edit)
EBM1.CD4
401. LLUMEN . cold in december (eternal winter mix) . 402. TECHNOIR . human shapes (rough mix) . 403. DUPONT . entering the ice age . 404. BRUDERSCHAFT . forever (COLONY 5 mix) . 405. ASSEMBLAGE 23 . collapse . 406. AUTODAFEH . love, hate and pain . 407. KANT KINO . owner of this house lives here (club mix) . 408. [DE:AD:CIBEL] . too tired to consume . 409. IC 434 . sangre de toro . 410. DER PRAGER HANDGRIFF . vorwärts . 411. PLASTIC NOISE EXPERIENCE . headcrash . 412. AYRIA . blue alice (DEAD WHEN I FOUND HER mix) . 413. UBERBYTE . money shot (club mix) . 414. NOISUF-X . fucking invective . 415. ALIEN VAMPIRES . she's on drugs (more than me) . 416. POUPPEE FABRIKK . symptom (disease mix) . 417. JÄGER 90 . der verzicht . 418. HAUSHETAERE . sunshine is my destroyer (DARKMEN mix)
EBM1.SOUND CARD
501. CERVELLO ELETTRONICO . grave accent . 502. DISEKT . asphyxiation techniques . 503. HIGH LEVEL STATIC . blade runner . 504. RED INDUSTRIE feat. SARA NOXX . the final destruction (IONIC VISION mix) . 505. JONATHANN CAST feat. DREY . hurt me (EQUITANT remix) . 506. EQUITANT . körperwärme . 507. PAIL . energy bodies . 508. CYGNOSIC . as we approach the end . 509. LTHRBOOTS . domination . 510. ELECTROVOT . fate (K. Wesenberg mix) . 511. ALPHA POINT . high like the angels . 512. INTERFACE . stateless . 513. FUTURE TRAIL . panic (CAMPING IM KELLER mix) . 514. STANDEG . photograph (remix) . 515. STRAY . miles from here . 516. INFERNOSOUNDS vs. SEQUENZ_ . regentag . 517. BOW EVER DOWN . devotion . 518. VIRGINS O.R PIGEONS . born in sin (DE_TOT_COR mix) . 519. EX.ES . dansa (africana) . 520. ZWEIFELHAFT . hackermanifest! . 521. IN[TOXIN] . ahnenerbe . 522. A NICE CHAOS . form & content . 523. SKINJOB . control (303 mix) . 524. URCEUS EXIT . pretend (alternate mix) . 525. NETZ . exit märchenland . 526. MATRIX . culture of shame (GASR mix) . 527. NEIKKA RPM . everlasting . 528. FREAKANGEL . my darling bullet (PREEMPTIVE STRIKE 0.1 mix) . 529. SCHWARZBLUT . das mandat . 530. TRAKKTOR . the surge . 531. ACYLUM . deathzone . 532. RETRACTOR . not human . 533. EMPTY . this regret (redux) . 534. UNTER NULL . broken heart cliché (KANT KINO mix) . 535. EHRON VON ALLEN . sin of nature (:WUMPSCUT: version) . 536. SELENE RIOT . (m)alice . 537. TWILIGHT LABORATORY . the eventual . 538. REIZSTROM . mensch gegen mensch . 539. EXOPLANET . exoplanet . 540. KABALL . new star (EQUITANT remix)