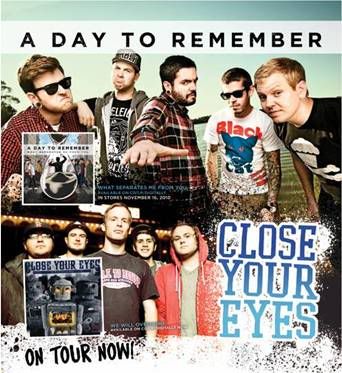 A DAY TO REMEMBER
continues their quest to take over the world – one city at a time. Today marks the first date of the highly-anticipated fall tour with
Underoath, The Word Alive
, and label-mates
CLOSE YOUR EYES
. A full list of dates can be seen below.
Hailing from Ocala, Florida, A DAY TO REMEMBER is one of the hardest working bands in the business. Since their VICTORY RECORDS signing in 2006 they have released three albums, sold out entire continental tours and topped Billboard charts. On November 16th, the band unveils their newest masterpiece, What Separates Me From You.
Pre-orders are available here.
Now – meet your new favorite band, CLOSE YOUR EYES. The band has been on fire since the release of their debut album, We Will Overcome, earlier this year. Get to the show early and find out exactly why they were named by Alternative Press as one of the "100 Bands You Need To Know In 2010".
Full list of dates:
Nov 2, 2010 Myrtle Beach, SC @ House Of Blues – Myrtle Beach
Nov 3, 2010 Raleigh, NC @ Disco Rodeo
Nov 4, 2010 Norfolk, VA @ Norva
Nov 5, 2010 Asbury Park, NJ @ Asbury Park Convention Center
Nov 6, 2010 Allentown, PA @ Crocodile Rock
Nov 8, 2010 Clifton Park, NY @ Northern Lights
Nov 9, 2010 Poughkeepsie, NY @ Mid Hudson Civic Center
Nov 10, 2010 Providence, RI @ Lupo's Heartbreak Hotel
Nov 12, 2010 Toledo, OH @ Headliners
Nov 13, 2010 Louisville, KY @ Expo Five
Nov 14, 2010 Grand Rapids, MI @ Orbit Room
Nov 16, 2010 Milwaukee, WI @ The Rave
Nov 17, 2010 Sauget, IL @ Pop's
Nov 18, 2010 Des Moines, IA @ Val Air Ballroom
Nov 19, 2010 Oklahoma City, OK @ Diamond Ballroom
Nov 20, 2010 El Paso, TX @ Sunshine Theatre
Nov 21, 2010 El Paso, TX @ Club 101
Nov 22, 2010 San Antonio, TX @ Back Stage Live
Nov 23, 2010 Mission, TX @ Las Palmas Race Park
Nov 24, 2010 New Orleans, LA @ House of Blues
Nov 27, 2010 Nashville, TN @ Rocketown
Nov 28, 2010 Memphis, TN @ New Daisy Theatre
For more information about A DAY TO REMEMBER, please visit:
www.myspace.com/adaytoremember
For more information about CLOSE YOUR EYES, please visit:
www.myspace.com/closeyoureyesmusic