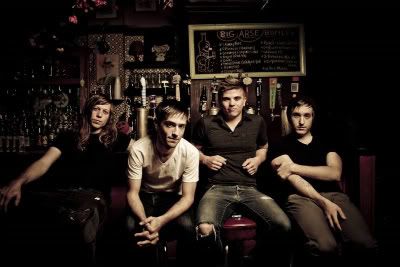 The Composure
, based out of Pittsburgh, Pennsylvania, truly is a band that stands alone. They have heart, talent, and most of all, they're as real as it gets. Comprised of Paul Menotiades (vocals/guitar), Jeff Wendle (bass/vocals), Seth Milberger (guitar/vocals), and Cory Muro (drums/vocals), they are a group that connects with their listeners as much as they connect with their music.
In 2010, the band signed to Modern Short Stories, an independent record label founded by Punchline's Steve Soboslai and Chris Fafalios to release their debut full length album,
Strings Attached
. The album, a collection of upbeat melodies and infectious hooks, was a project three years in the making produced by Marc McClusky (Weezer, Farewell, The Appreciation Post). The Composure began recording the record in Chicago and finished at Sound City Studios in Van Nuys, California - a story book closing to a long recording journey, featuring Dave Grohl's Nevermind-era drum rug and Tom Petty riding by on a motorcycle (you can ask them about it). In their career, the band has also worked with legendary producer, Mark Trombino, best known for his work on critically acclaimed albums such as, Jimmy Eat World's Bleed American and Clarity as well as Blink 182's Dude Ranch.
Strings Attached, set to be released on November 23, 2010, is a representation of the solidity of The Composure as a group. They have endured more than the average band since they were founded in 2007, but their debut album is the physical manifestation of just how focused and devoted they are to what they love. Their first single, "Stop Now, Start Again," is paired with a visual representation that ties the concept of the album cover to the idea of people hearing irresistible music and being drawn to it.
While the band credits everyone from Saves the Day to Hall and Oates as being influences, it's clear that they are not trying to be anyone but themselves. The Composure is punk rock and pop rolled into one Converse wearing package and delivered to you with only a bright outlook of the future.
Check out their music video for "Stop Now, Start Again" at:
http://www.youtube.com/watch?v=rl7qfT3u1yo&feature=player_embedded
.
The Composure has also launched a
Strings Attached
album pre-order at:
www.thecomposure.com
.
Stream the entire album and download artwork, etc. at:
www.thecomposure.com/epk