FOR LIMITED TIME STARTING NOV 30, VISIT WWW.KILLBRAND.COM AND USE CODE "AMERRICKAN"
AT CHECKOUT FOR 20% Off ALL AMERRICKAN DREAM ITEMS!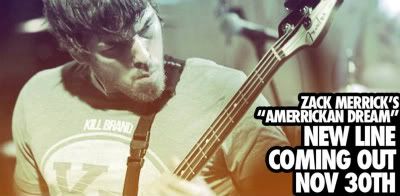 On November 30th
All Time Low
bassist Zack Merrick will launch his latest line of AMERRICKAN DREAM clothing in partnership with Kill Brand Apparel (
www.killbrand.com
).
More info will be announced soon, but in the meantime please "like" the AMMERICKAN DREAM Facebook page
http://www.facebook.com/pages/A-Merrick-an-by-Zack-Merrick/176613089022107
and visit
www.killbrand.com
.
Kill Brand Apparel is a company that seeks to provide a unified creative response to a new generation who let their passions determine the way they live their lives. Many barriers have been broken over the past twenty years, and today young people grow up in an environment where their creativity can take them wherever they want to go. The people who do what they love are taking their skills further than ever. Kill Brand is intended to be an expression of the burning desire to push the limits that unifies creative people in the realms of art, music, and sports, and creates one all encompassing culture. Like artists, musicians, and athletes who pursue their goals with incredible dedication, Kill Brand employs that same type of love and enthusiasm in an attempt to create clothing that reflects the passions that make us, as a generation, who we are.
In 2001, Kill Brand was created by musician, Jonny Smith. While on tour in the band Tokyo Rose, Jonny ran into a problem -- no clean t-shirts. With a hot pink T-shirt and black spray paint in hand, Jonny randomly graffitied K-I-L-L across the front of the T, and took the stage. This fresh trend took punk rock fans by storm. Before long, Jonny was designing, spray-painting, and selling his T's out of the back of the tour van. As demand grew, Jonny invested in a screen printing machine (that he used in his studio apartment) to keep up with demand. Jonny personally screen-printed every item by hand with his signature, KILL. Kill Brand's notoriety grew as Jonny left Tokyo Rose and pursued promoting the apparel at music festivals across the U.S.
Now Kill Brand designs are requested by stylists from GQ Magazine, featured in Alternative Press, Maxim, and many more. Kill Brand is currently available in Tilly's, D-tox, Zumiez, and over 200 retail stores worldwide.
Kill Brand will be announcing even more exciting news in the weeks ahead, so stay tuned!
http://www.killbrand.com
http://www.killbrandstore.com
http://www.facebook.com/pages/Killbrand/53760590934
http://twitter.com/killbrand