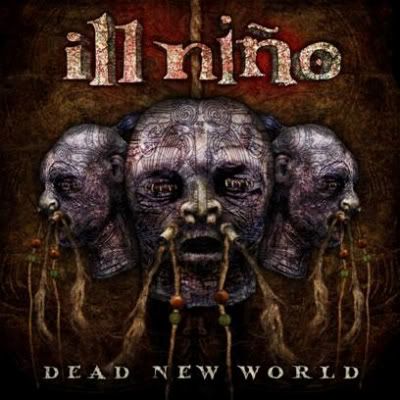 Latin metal masters
ILL NIÑO
are pleased to announce the release of their new VICTORY RECORDS album,
Dead New World
, out today. Make sure to pick up a copy at your local record store or music carrier! The album can also be purchased on iTunes.
CraveOnline and ILL NIÑO are teaming up today to bring you Dead New World streaming in full! Head to this link to listen to the album!
http://www.craveonline.com/entertainment/music/article/world-premiere-ill-nino-dead-new-world-full-album-115097
Dead New World
is self-produced with co-production coming from Clint Lowery (Sevendust) and Sahaj Ticotin (RA) and mixed by Eddie Wohl (36 Crazyfists, Anthrax, Smile Empty Soul). See above for the newly released album art, illustrated by Tim Butler of XIII Designs (Disturbed, Slipknot, Metallica, Slayer, Michael Jackson).
To date, ILL NIÑO has sold more than 500,000 albums in the United States alone, and over 1 Million albums worldwide. The band has shared the stage with the likes of Linkin Park, Avenged Sevenfold, Korn, Disturbed, Guns N' Roses, and more! The band plans to embark on a full United States tour this fall, and will head into Asia and South America by the end of 2010! Stay tuned for more tour updates on ILL NIÑO!
For more information on ILL NIÑO, please visit these websites:
www.victoryrecords.com/
www.myspace.com/illnino