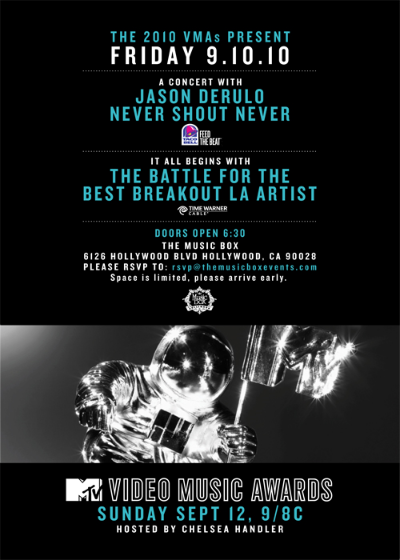 Taco Bell is already scouting for future potential recipients of MTV's coveted moonman statue. As sponsor of both the MTV VMAs Friday night concert and the VMAs House Artist in-show moments, featuring deadmau5, Taco Bell's Feed the Beat program makes an encore appearance at MTV's biggest weekend of the year to serve up-and-coming bands both tacos and increased exposure.
Feed the Beat artist Never Shout Never, along with Jason Derulo, will heat up the stage at the MTV VMAs Friday night concert on Friday, Sept. 10. The "2010 MTV VMAs Present: A Concert with Jason Derulo and Never Shout Never," brought to you by Taco Bell and Feed the Beat, and fed by the Taco Bell Truck onsite, will be held at The Music Box in Los Angeles to kick-off a music-filled weekend. Taco Bell and MTV successfully paired up last year for a weekend concert in New York City where Feed the Beat artist Cobra Starship took the stage to celebrate their 2009 VMA nominations for their hit single "Good Girls Go Bad." Gabe Saporta and Ryland Blackinton from Cobra Starship will be returning again this year, partnering with Taco Bell to DJ and host the concert.
Viewers can see Jason Derulo, as well as Feed the Beat friend Travie McCoy, perform alongside House Artist deadmau5 by tuning in to the MTV VMAs on Sunday, Sept. 12. They can also catch Feed the Beat artist 3OH!3, as they await the results of their 2010 nomination for Best Collaboration.
From its roots as a simple effort to feed up-and-coming alternative rock bands while on tour, Taco Bell's Feed the Beat program has evolved into a multi-faceted support system for up-and-coming artists. Its primary expansion has been by leveraging Taco Bell's influential sponsorships and marketing platforms. Taco Bell has worked with ESPN to feature Feed the Beat bands as the soundtrack for in-broadcast highlights for its annual extreme sports competitions, and is now building on this exposure opportunity through live performances during MTV VMAs weekend.
FEED THE BEAT 2010 IS CURRENTLY ACCEPTING APPLICATIONS
The fifth-consecutive Feed the Beat program is currently accepting applications and plans to deliver more breakthrough bands than ever before via the brand's influential sponsorships and marketing platforms. Taco Bell will carry on its commitment to keep selected bands energized on tour with free Fourthmeal ($500 in $5 Taco Bell Bucks per band) - the late-night meal between dinner and breakfast. The program's centerpiece is "great music, free food, no strings attached."All program extensions are cooperative and created with bands full endorsement.
Bands touring this fall who love Taco Bell and want to be involved in the Feed the Beat program can apply by filling out an online submission form now through Friday, Sept. 17th
Sign up now at
www.feedthebeat.com/signup
Feed the Beat alumni bands include some of the most exciting acts today, including 2009 MTV VMA nominee Cobra Starship, 3OH!3, The Gaslight Anthem, Manchester Orchestra, Underoath, Blitzen Trapper, The Academy Is…, Girl Talk, A Place to Bury Strangers, Say Anything, Shadows Fall, Delta Spirit, The Devil Wears Prada, and more.
FOR MORE INFORMATION
www.feedthebeat.com
www.twitter.com/feedthebeat
www.facebook.com/feedthebeat