JAPANESE ROCK LEGENDS TO PERFORM MINI-SETS AND SIGN AUTOGRAPHS AT AMOEBA RECORDS
SAN FRANCISCO ON SEPTEMBER 12TH @ 2PM
& HOLLYWOOD ON SEPTEMBER 14TH @ 5PM
BAND OUT IN SUPPORT OF TWO NEW GOOD CHARAMEL RECORDS RELEASES: ENGLISH VERSIONS OF FREE TIME (INCLUDING TWO BONUS TRACKS)
AND 2007'S fun! fun! fun!
LIVE AT MOHAWK PLACE DVD AVAILABLE AT INDIE STORES NOW AND ONLINE OCTOBER 19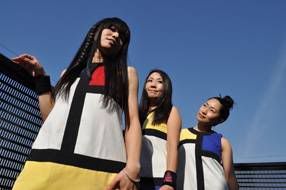 Legendary Japanese pop-punk, all-girl band Shonen Knife kick off their U.S. tour on September 8th in Seattle, WA. The band has also just announced that they will be playing mini sets and signing autographs at the Amoeba Records stores in San Francisco (September 12th at 2pm) and Los Angeles (September 14th at 5pm). For more info visit: www.amoeba.com.
On August 31, Shonen Knife released the English-language versions of their latest album Free Time, as well as 2007's fun! fun! fun! on Good Charamel Records, the indie label founded by Robby Takac of The Goo Goo Dolls.
Shonen Knife's Live At Mohawk Place DVD is also available now at indie stores and via the Internet beginning October 19. The live release was recorded during the band's final stop on the 2009 "Super Group" Tour of North America at Buffalo, NY's Mohawk Place. Highlights include an encore performance by original member Atsuko, 18 songs from their extensive catalog, tunes such as "Giant Kitty," "Antonio Baka Guy" and "Bear Up Bison," as well as selections from their Super Group album, including exclusive interview footage. This is a must have item for any Shonen Knife collector.
Shonen Knife also appear on Good Charamel's recently released I Love J-Rock compilation, alongside such buzzing Japanese acts as TsuShiMaMiRe, LAZYgunsBRISKY and Molice to name a few.
For more info on Shonen Knife see
www.myspace.com/shonenknife