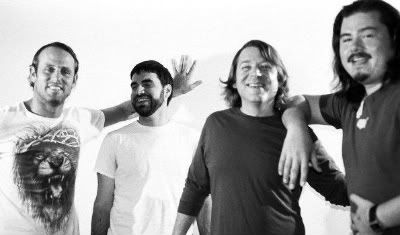 Recently selected by MTV as one of the top 3 breakout bands in NYC,
RED DIRECTORS
were formed in New York City in 2007, RED DIRECTORS is a mixture of rock, pop, punk, and epic song writing. With their wide range of style, timeless hooks, and rich harmonies… all mixed with a raw, high-energy performance… Red Directors have been drawing people from all over and caused many to freak out over their live shows.
RED DIRECTORS members: Trevor Potts (songwriter, vocals, guitar, piano), Joe Mangan (bass), Matt Churchill (lead electric guitar), Brett Thompson (drums) and Justin Etheredge (Keys) have been referred to as the "the guys next door" who simply unload when it is time for them to take the stage. Not too long ago, Red Directors were playing for friends in their studio/rehearsal space, which is an old school, cedar-shingled shed tucked away in a secret spot. It took no time for these wise-asses to take their musical vision out of the shed and into some of the best-known clubs in New York City as well as up and down the East Coast.
The track, "Been Around" has been described as a "genuine and timeless acoustic ballad that strikes a chord with its authenticity". "Amazing" has also garnered much respect and is one of the band's most well received tracks where lyrically, Potts, again, combines raw intimacy with a gruff confidence and floods the audience with a tidal wave of sound and human emotion.
RED DIRECTORS prove that there are still raw and compelling bands ripping through the clubs of New York City. Red Directors and their mission have only just begun.
myspace:
http://www.myspace.com/reddirectors
itunes: http://itunes.apple.com/us/album/wave-it-in/id320089447
Review coming soon!