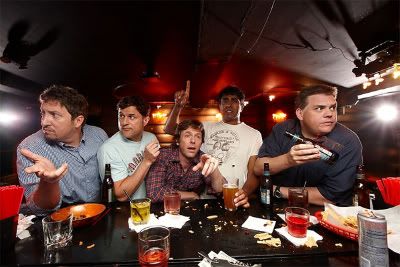 Today, September 14th marks the DVD release of the comedy troupe's DVD
Broken Lizard
Stands Up. Broken Lizard are responsible for some of the most beloved cult comedy films of the last decade including Super Troopers and Beerfest. Starting today, you can now own their Comedy Central special on DVD.
To celebrate the release of the DVD the cast is all over the place. Here's where you can find Broken Lizard on the web!
LIVE VIDEO CHAT TONIGHT! SEPTEMBER 14th!
The gang is participating in a live video chat tonight at 10pm EDT / 7pm PDT! Tune in and talk to the cast!
http://www.ustream.tv/channel/broken-lizard-live
BROKEN LIZARD FACEBOOK EXCLUSIVE
There is currently an exclusive video clip on the group's Facebook page. Visit the page, "like" what you see and gain access to the exclusive clip.
http://www.facebook.com/therealbrokenlizard
BROKEN LIZARD DVD-ONLY EXCLUSIVE VIDEO CLIPS
Peeping Tom -
http://comedians.jokes.com/broken-lizard/videos/steve-lemme---dvd-exclusive---peeping-tom
Susan Boyle -
http://comedians.jokes.com/broken-lizard/videos/kevin-heffernan---dvd-exclusive---susan-boyle
Love Song -
http://comedians.jokes.com/broken-lizard/videos/erik-stolhanske---dvd-exclusive---love-song
Becoming A Woman -
http://comedians.jokes.com/broken-lizard/videos/jay-chandrasekhar---dvd-exclusive---becoming-a-woman
VIDEO CLIPS FROM BROKEN LIZARD COMEDY CENTRAL SPECIAL
Two, Joints, 4 Guys -
http://comedians.jokes.com/broken-lizard/videos/jay-chandrasekhar---two-joints--four-guys
Vivid Dream -
http://comedians.jokes.com/broken-lizard/videos/paul-soter---vivid-dream
A Little Nudity -
http://comedians.jokes.com/broken-lizard/videos/kevin-heffernan---a-little-nudity
Man's Best Friend -
http://comedians.jokes.com/broken-lizard/videos/steve-lemme---man-s-best-friend
Crematorium -
http://comedians.jokes.com/broken-lizard/videos/erik-stolhanske---creamatorium
RETAIL LINK TO PURCHASE THE DVD
http://www.amazon.com/Broken-Lizard-Stands-Jay-Chandrasekhar/dp/B003SLEDG0/ref=sr_1_1?ie=UTF8&s=dvd&qid=1284482406&sr=8-1