Within the Ruins embark on full US tour!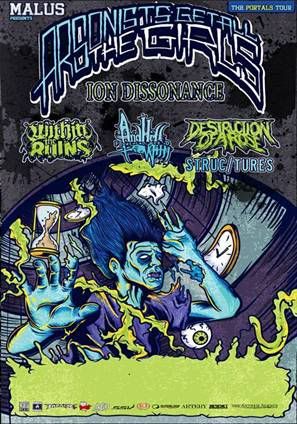 Massachusetts technical metal outfit
WITHIN THE RUINS
have just released their sophomore album on Victory Records, entitled Invade. Clocking in at just over 40 minutes of pure unadulterated intensity, 'INVADE' has already proven to be one of the most highly-anticipated (and subsequently well-received) technical metal albums of 2010. Immediately following the release of 'Invade' the Western Mass Quintet are proud to announce they will be heading out with Arsonists Get All the Girls, Ion Dissonance, And Hell Followed With, Destruction of a Rose and Struc/tures on afull US tour, presented by Malus Clothing.
10/15/10 Temacula, California @ The Vault
10/16/10 Canoga Park, California @ San Diego, California
10/17/10 San Diego, California @ Soma
10/18/10 Tucson, Arizona @ Skrappys
10/19/10 Albuquerque, New Mexico @ The Fusion Factory
10/21/10 San Antonio, Texas @ White Rabbit
10/22/10 The Woodlands, Texas @ Shadowplay Lounge
10/24/10 Waco, Texas @ Art Ambush
10/25/10 Metairie, Louisiana @ The High Ground
10/27/10 West Palm Beach, Florida @ Ground Control
10/28/10 Tampa, Florida @ The Brass Mug
10/29/10 Columbus, Georgia @ Gallery 13
10/30/10 Greenville, North Carolina @ Backdoor Skatepark
10/31/10 Springfield, Virginia @ Jaxx
11/1/10 Jermyn, Pennsylvania @ Eleanor Rigby's
11/2/10 Vineland, New Jersey @ Hanger 84
11/3/10 Howell, New Jersey @ The Dippy Dome
11/4/10 Patchogue, New York @ Club Karma
11/5/10 Albany, New York @ Bogie's
11/6/10 Manchester, New Hampshire @ Rocko's
11/7/10 Holyoke, Massachusetts @ Waterfront Tavern
11/8/10 Danbury, Connecticut @ Heirloom Arts Theatre
11/9/10 Buffalo, New York @ Broadway Joe's
11/10/10 Toledo, Ohio @ Frankie's
11/11/10 Southgate, Michigan @ The Modern Exchange
11/12/10 Bartlett, Illinois @ Local Noise
11/13/10 Jefferson, South Dakota @ Jefferson Community Center
11/14/10 St. Paul, Minnesota @ The Space
11/15/10 Wichita, Kansas @ Eagles Lodge
11/16/10 Denver, Colorado @ Cervantes Masterpiece Ballroom
11/17/10 Boise, Idaho @ The Venue
11/18/10 Seattle, Washington @ Studio Seven
11/20/10 Orangevale, California @ Club Retro