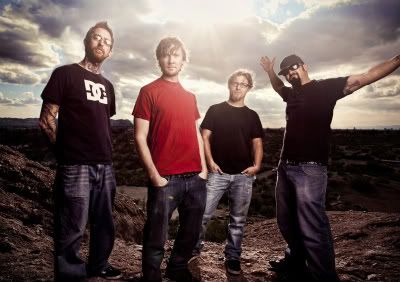 Mesa, Arizona's punk/reggae veterans
Authority Zero
are the first act signed to Viking Funeral, a new label imprint founded by Pennywise guitarist Fletcher Dragge, Ken Seaton of Hardline Entertainment, and Suburban Noize Records. The group will release their fourth studio album through the label imprint on May 25th, 2010.
"For the release of this album, we first and foremost wanted to make sure that all our fans worldwide would be able to get their hands on the music. Fletcher Dragge from Pennywise and Ken Seaton from Hardline Entertainment had approached us, informing that they were starting up a label partnership with Suburban Noize Records and they wanted us to be the first artist signed to the imprint," says Authority Zero's Jason DeVore. "This is going to be a great move for everyone and we have a solid team behind us that will give this album the proper push and attention we feel it deserves."
Authority Zero started kicking out the jams in 1994. From their humble beginnings recording an independent EP in between cigarette and skateboarding breaks, Authority Zero's unique blend of socially aware, politically charged punk rock and latin rhythms has cultivated a devoted fanbase all across the globe.
The band's debut album (2002's 'A Passage In Time') and sophomore effort (2004's 'Andiamo') are now considered classics in the punk rock library, and led to a barrage of touring all over the world alongside Pennywise, H20, Flogging Molly, Slightly Stoopid, Guttermouth and the Vans Warped Tour. In 2007 the band released their third studio album, "12:34", which spawned the infectious hit "Sirens", a song that quickly become one of the most requested songs on Sirius Radio's FACTION channel.
Authority Zero will hit the road in April for a month long co-headlining tour alongside the Voodoo Glow Skulls.
AUTHORITY ZERO TOUR DATES:
Apr 03 - Fort Collins, CO @ Aggie Theatre
Apr 04 - Denver, CO @ Gothic Theatre
Apr 05 - Pueblo, CO @ Kim's Pixy Inn
Apr 06 - Oklahoma City, OK @ The Conservatory
Apr 07 - Little Rock, AR @ Vinos
Apr 08 - Dallas, TX @ The Loft
Apr 09 - Houston, TX @ Meridian
Apr 10 - San Antonio, TX @ White Rabbit
Apr 11 - Austin, TX @ Emo's Inside
Apr 12 - El Paso, TX @ Club 101
Apr 13 - Albuquerque, NM @ Launchpad
Apr 14 - Tucson, AZ @ The Rock
Apr 16 - Tempe, AZ @ Marquee
Apr 17 - San Diego, CA @ Soma
###
www.myspace.com/AuthorityZero