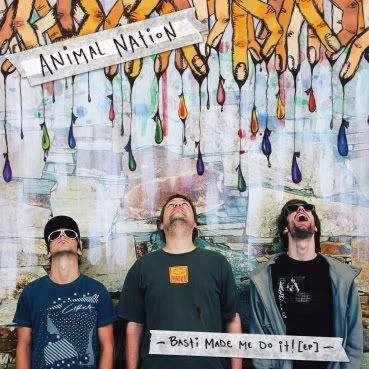 They've been called everything from indie-hop to inteli-hip-hop, and now they're ready to take their alarmingly aware live set on the road.
Animal Nation
, the acclaimed duo consisting of Mike Armitage and Garnet Clare have always maintained a heightened sense of focus throughout their careers, and now the rest of the country is about to be exposed to Animal Nation on their first cross-Canada tour. Mothers, let your daughters out into the night: they'll be richer for hearing these two.
Fresh off the release of
Basti Made Me Do It!
Armitage and Clare are poised to bring their largely underground sound to the forefront, premiering such innovative tracks as the swaying sing-a-long 'Hey Mr. Basti!' or the spacey, Four Tet inspired groove of 'I Think I've Been Here Before' which serves to highlight the duo's inspired and often eclectic take on the world.
Animal Nation's latest wouldn't have been possible without the imported talents of German producer Sebastian (Basti) Hochstein, whose fingerprints are found all over the record. Thinking Basti would want to check out the offerings of their native British Columbia, Mike and Garnet prepared for a week of hikes, bikes, and sights and wound up spending the trip writing tracks to satisfy Basti's never-ending lust for new and exciting music. We can hear both the influence of Basti and British Columbia in spades; there is a joyous, outward feel to the record which will only be augmented throughout their live sets.
Animal Nation's first cross-Canada tour delivers a duo which doesn't just create music to be heard, but celebrates music to live to. And live life fully. After a series of gigs opening for hip-hop legends such as Buck 65 and Jully Black, Animal Nation are ready for the road, and ready for both old fans and new ears alike. T hey've played the 2010 Winter Olympics, the Pemberton Festival and Canada Day on Parliament Hill. It'd be tough to find an act more primed for the road; with a host of gigs across the country, including 7 within their native British Columbia, now is the time to become a citizen of Animal Nation.
Check out 'Hey Mr. Basti' here:
http://www.myspace.com/animalnation
Sept. 30th – Ottawa, ON – Mercury Lounge
Oct. 1st – Brantford, ON – Therapy Lounge
Oct. 5th – Toronto, ON – Bread and Circus
Oct. 15th – Saskatoon, SK – The Fez
Oct. 20th – Edmonton, AB – New City Compound
Oct. 22nd – Fernie, BC – Fernie Hotel
Oct. 23rd – Nelson, BC – Spirit Bar
Oct. 26th – Rossland, BC – Flying Steamshovel
Oct. 29th – Golden, BC – The Rockwater
Oct. 30th - Banff, AB - The Devil's Gap
Nov. 4th – Victoria, BC – Upstairs Cabaret
Nov. 9th – Vancouver, BC – Media Club
Nov. 11th – Whistler, BC – Garfinkel's