It's the day we've all been waiting for! Warp Riders, the latest album by Austin's
THE SWORD
is in stores this Tuesday, August 24th.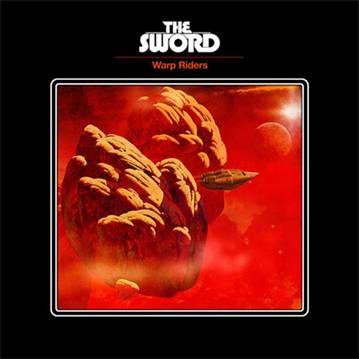 If you haven't gotten a chance to listen to Warp Riders yet, head over to the band's Myspace profile where they are streaming the album in its entirety, but only for a short period of time, so hurry up.
http://www.myspace.com/thesword
Also, you can watch this brief EPK video of the band discussing the making of Warp Riders
http://www.youtube.com/watch?v=jWXrq_QA3Bs
To mark the release of Warp Riders, The Sword will be playing a free show in the parking lot of their hometown record store. Be in the parking lot of Austin, TX's Waterloo Records / 24 Diner on Monday, August 23rd at 7pm. For more info on the performance go here.
http://www.waterloorecords.com/cdstoreevents.html
Finally, the band is hitting the road, touring the US, Australia, Europe and Japan this fall. The band will be the opening act for Metallica for the Australia and Japanese leg of these tour dates. For tickets visit
http://www.swordofdoom.com/?page_id=97
THE SWORD FALL TOUR DATES
8/23/10: Austin, TX- Waterloo Records
9/15/10: Melbourne, AUS - Rod Laver Arena*
9/16/10: Melbourne, AUS Rod Laver Arena*
9/18/10: Sydney, AUS - Acer Arena*
9/21/10: Christchurch, NZ - Canterbury Arena*
9/21/10: Christchurch, NZ - Canterbury Arena*
9/25/10: Tokyo, JAP - Saitama Super Arena*
9/26/10: Tokyo, JAP - Saitama Super Arena*
10/01/10: Los Angeles, CA - El Rey
10/02/10: San Francisco, CA - Regency Ballroom
10/03/10: Portland, OR - Roseland
10/04/10: Seattle, WA - The Showbox Sodo
10/06/10: Denver, CO - Ogden Theatre
10/08/10 - 10/10/10: Austin, TX - Austin City Limits Festival
10/12/10: Atlanta, GA - Masquerade
10/13/10: Asheville, NC - Orange Peel
10/14/10: Roanoke, VA - Martin's Downtown
10/15/10: Philadelphia, PA - Theatre of the Living Arts
10/16/10: New York, NY - Webster Hall
10/17/10: Boston, MA - Royale Boston
10/19/10: Cleveland, OH - House of Blues
10/20/10: Washington D.C. - 9:30 Club
10/21/10: Huntington, WV - V Club Live
10/22/10: Detroit, MI - The Shelter
10/23/10: Chicago, IL - Metro
*supporting Metallica
FOR MORE INFORMATION
www.swordofdoom.com
www.myspace.com/thesword