BAND LENDS TWO TRACKS TO UPCOMING I LOVE J-ROCK COMPILATION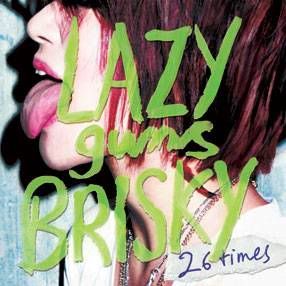 LAZYgunsBRISKY
is a 4-piece all girl rock band formed in Japan in 2006 by Lucy (vocal), Izumi (guitar), Azu (bass), and Moe (drums). They recorded their first free demo CD The Trip in February 2007. Word of mouth quickly spread and in April of 2008, they released their debut indie album
Quixotic
on July Records.
In December of the same year, Kenichi Asai (ex. BLANKEY JET CITY) produced and released LgB's major label EP Catching which came out on the Babestar label. On July 8th of 2009, LgB released their 2nd EP 26 Times on Flying Star Records in Japan, which as also produced by Asai.
Featuring a healthy offering of the band's hard-edged riff-rock, 26 Times will finally be released in North America on August 31 on Good Charamel Records, the Buffalo, NY based label run by Goo Goo Dolls bassist, Robby Takac.
Over the last several months LAZYgunsBRISKY has been playing shows throughout Japan and Europe. A US tour is anticipated in early 2011.
LAZYgunsBRISKY also lend two tracks to Good Charamel's I Love J-Rock compilation, which will be released August 31.
Stream snippets from the album here:
http://www.goodcharamel.com/?select=artists&data=lazyGunsBrisky
Check out the band's music video for "Navy Star":
http://www.youtube.com/watch?v=M1GTy_mcTg4&feature=player_embedded
26 TIMES TRACK LISTING:
1. Liar
2. Navy Star
3. Bitter Day
4. Now!
5. Sneaky
6. Chicken race
7. Ring, ring, ring
8. Abbey road