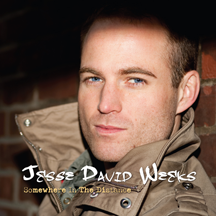 The job of a policeman is to serve and protect.
Jesse Weeks
, a police officer with a music career does just that: serving listeners with relaxed melodies and protecting the pop song as a well crafted work of art.
It was a few years ago when Weeks penned 'Somewhere In The Distance' with friend Paul Burns, a carefree and catchy track, blending Jason Mraz-esque harmonies with Jack Johnson's summer-ready groove. After tracking down producer Ron Lopata (Tomi Swick, Jully Black, Jacksoul), the two began work completing Weeks' first full length. Started years ago and shelved, 'Somewhere In the Distance' needed some arrangement work, though the vibe and lyrics remained. When the song emerged successfully on the other end, it ended up winning the 2010 RadioStar National song contest and can now be heard on radio stations across the country.
But Weeks is no one-hit wonder, his debut full length of the same name Somewhere In The Distance, is chalk full of bouncy, vibey tracks that showcase both Weeks' reggae influences and palpable sensitivity. 'We Wanna Be Free' (a collaboration with Saukrates) begs for more brotherhood in society, complemented with sunny, jazzy melodies. And 'Bloodshed In Our Streets,' winner of 91.5 The Beat's 2007 Rhythm Of The Future Contest is a firsthand account of the gun troubles that plague his hometown of Toronto.
There is an honesty within Somewhere In the Distance that is a refreshing and bold step for a debut record. Weeks faces his inner fears on the piano-laden balladry of 'Answers,' while 'Time Waits For No Man' sees Weeks dipping into his appreciation of modern hip-hop with lyrical maturity. Simply put, there is nothing reserved about this album. Weeks goes for glory with catchy yet stunningly heartfelt tracks; it takes a bold personality to want to be a policeman, and that attitude is evident on this first release.
He is a rising star, whose musical charm refuses to go unnoticed. Jesse Weeks may have spent his time protecting the streets of Toronto, but with the release of Somewhere In The Distance, he'll soon be serving listeners everywhere with tickets to his next hit song.
For music and more info please visit:
www.jesseweeks.com
And here:
www.myspace.com/jessedavidmusic