New EP "We Move Together" out on iTunes now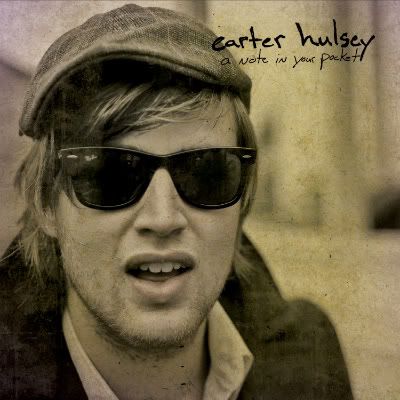 Carter Hulsey
has announced his touring plans for the next months. Hulsey will be playing several headlining shows, a few one-offs with Jarrod Gorbel of The Honorary Tittle and Sherwood before heading out on THE HARMONY TOUR this fall with Never Shout Never, The Maine and I Can Make A Mess Like Nobody's Business. Tour dates below.
Hulsey recently released a new ep on iTunes called We Move Together. The EP was recorded live in Springfield, MO and features a new song called "Making Napalm."
Link:
http://tinyurl.com/2gxoo7y
He also released his debut full-length earlier this summer called A Note In My Pocket on Loveway Records.
iTunes:
http://itunes.apple.com/us/album/a-note-in-your-pocket/id376842486?ign-mpt=uo%3D4
Online Store:
http://carterhulsey.bigcartel.com/product/a-note-in-your-pocket-regular-pre-order
Tour Dates
08/20 Salem, MO @ Common Grounds
08/21 St. Charles, MO @ Harvester Christian Church
08/26 Joplin, MO @ Blackthorn
08/28 Kansas City, MO @ Main Street Cafe
09/01 Albany, NY @ Valentine's
09/05 Allentown, PA @ Crocodile Rock
09/08 Austin, TX @ Stubbs &&
09/10 Albany, NY @ The Hanger **
09/11 Plano, TX @ Oak Point Amphiteater
09/12 Houston, TX @ Shadowplay Lounge
10/01 Joplin, MO @ Momentum 8
10/19 Seattle, WA The Showbox @ The Market ^^
10/20 Portland, OR Wonder Ballroom ^^
10/22 San Francisco, CA The Grand Ballroom @ The Regency ^^
10/23 Anaheim, CA House of Blues ^^
10/24 San Diego, CA House of Blues ^^
10/26 Los Angeles, CA The Wiltern ^^
10/28 Tempe, AZ Marquee Theatre ^^
10/30 Austin, TX La Zona Rosa ^^
10/31 Tulsa, OK Cain's Ballroom ^^
11/02 Houston, TX House of Blues ^^
11/03 Dallas, TX House of Blues ^^
11/05 Orlando, FL House of Blues Orlando ^^
11/06 Tampa, FL The Ritz ^^
11/07 Ft. Lauderdale, FL Revolution ^^
11/09 Atlanta, GA Center Stage ^^
11/10 Raleigh, NC Lincoln Theatre ^^
11/11 Richmond, VA The National ^^
11/12 Baltimore, MD Rams Head Live ^^
11/13 Philadelphia, PA Theatre of the Living Arts ^^
11/14 Philadelphia, PA Theatre of the Living Arts ^^
11/16 Hartford, CT Webster Theatre ^^
11/17 Boston, MA House of Blues ^^
11/18 New York, NY Nokia Theatre Times Square ^^
11/19 Asbury Park, NJ Paramount Theatre ^^
11/20 Allentown, PA Crocodile Rock Café ^^
11/21 Pittsburgh, PA Club Zoo ^^
11/23 Cleveland, OH House of Blues Cleveland ^^
11/24 Pontiac, MI Clutch Cargo's ^^
11/26 Milwaukee, WI The Rave ^^
11/27 Chicago, IL House of Blues ^^
Links:
http://www.myspace.com/carterhulsey
http://www.facebook.com/carterhulsey
http://twitter.com/carterhulsey