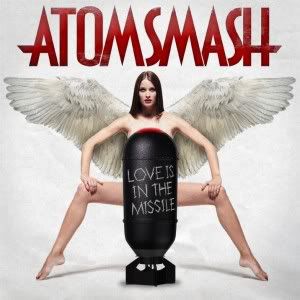 The debut full-length from
Atom Smash
,
Love Is In The Missile
is now available. You can get it from iTunes, Amazon, or at your local record store.
iTunes:
http://itunes.apple.com/us/album/love-is-in-the-missile/id385426818?ign-mpt=uo%3D4
Amazon:
http://www.amazon.com/Love-Missle-Explicit-Atom-Smash/dp/B003VL3UUC?ie=UTF8&s=music&qid=1281453510&sr=8-3
AOL is streaming the record all week, so preview it before you buy.
Link:
http://music.aol.com/new-releases-full-cds/#/3
Be sure to check out their video for "Do Her Wrong"
http://www.atomsmashmusic.com/node/228
Tour Dates
08/31 Jackson, MS @ Club Fire **
09/01 Huntsville, AL @ Sammy T's **
09/03 Pensacola, FL @ Seville Quarter **
09/04 Tallahassee, FL @ Floyds Music Store **
09/05 Jacksonville, FL @ Free Bird Live **
09/08 Charlotte, NC @ Amos' Southend **
09/09 North Charlestown, SC @ Market Street Saloon **
09/10 Johnson City, TN @ Chrome **
09/12 Virginia Beach, VA @ Diesel **
09/13 Knoxville, TN @ Valarium **
09/15 Allentown, PA @ Crocodile Rock **
09/17 Buffalo, NY @ The Traif **
09/19 Hartford, CT @ Webster Theatre **
09/21 Youngstown, OH @ Wedgewood Entertain Center **
09/22 Covington, KY @ Radiodown **
09/24 Toledo, OH @ Headliners **
09/25 Peoria, IL @ The Whammy Bar **
** w/ American Bang, Cavo, Shaman's Harvest
^^ w/ Hinder and Bad City