Video for "cheatercheaterbestfriendeater" Premieres on Myspace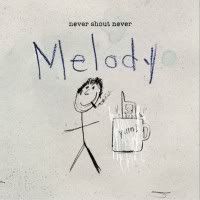 Never Shout Never
's Melody EP is now available for purchase on iTunes. The Deluxe Single contains two brand new tracks, an audio interview with NSN leader Christopher Drew and producer Butch Vig, ten photos, lyrics and a video for "Coffee & Cigarettes." It's available for a special low price of $2.99.
Harmony, the next full-length from NSN is also available for pre-order. There are two different versions to choose from. The first is the Harmony Fan Edition Bundle which includes the CD, instant mp3 downloads of 2 exclusive live songs "Damn Dog" and "Love Is Our Weapon," and a limited edition Harmony flower pot. This package is $24.99. A deluxe iTunes version is available for pre-order as well. Links all listed below.
Check out the new video for "cheatercheaterboyfriendeater" on Myspace.
Link:
http://vids.myspace.com/index.cfm?fuseaction=vids.individual&videoid=106001716#pm_cmp=vid_OEV_P_P
Harmony Fan Edition Bundle:
http://www.nevershoutnever.com/store/product/harmony-limited-edition-bundle/?cmpid=0710/NSN/Harmonydtc/splashbuybutton
Harmony Deluxe Itunes Package:
http://itunes.apple.com/preorder/harmony-deluxe-version/id383201203
Never Shout Never is currently on the Warped Tour. After that, they'll play on the MTV VMA Tour with special guests The Ready Set. Dates below.
07/28 Cincinnati, OH @ Riverbend Music Center **
07/29 Milwaukee, WI @ Marcus Amphitheater **
07/30 Detroit, MI @ Comerica Park **
07/31 Tinley Park, IL @ First Midwest Bank Amphitheater **
08/01 Shankopee, MN @ Canterbury Park **
08/02 Bonner Springs, KS @ Sandstone Amphitheatre **
08/05 Calgary, AB @ Race City Speedway **
08/07 Salt Lake City, UT @ Utah State Fairgrounds **
08/08 Denver, CO @ Invesco Field **
08/11 Pomona, CA @ Pomona Fairplex **
08/12 Marysville, CA @ Sleep Train Amphitheatre **
08/13 Nampa, ID @ Idaho Center Amphitheatre **
08/14 George, WA @ Gorge Amphitheatre **
08/15 Hillsboro, OR @ Washington County Fairgrounds **
08/21 St. Louis, MO @ Six Flags St. Louis &&
08/22 Chicago, IL @ Six Flags Great America &&
08/26 Agawam, MA @ Six Flags New England &&
08/27 Jackson, NJ @ Six Flags Great Adventure &&
08/29 Atlanta, GA @ Six Flags over Georgia &&
** Vans Warped Tour 2010
&& MTV VMA Tour with The Ready Set
Links:
http://www.nevershoutnever.com
http://www.myspace.com/nevershoutnever
http://www.twitter.com/christoferdrew