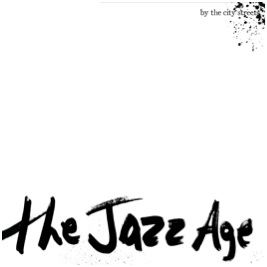 "He said if you're not careful this world will tear you all apart. It'll lose your laugh, your identity for some wretched work of art. That the power created, the rest of us call it war. So tell me what this heart, tell me what this heart is for." So goes the last track on
The City Streets'
latest self-release
The Jazz Age
, acting as a flawless finale to an album so dead on in it's delivery of the very being of rock and roll, it manages to pay both direct and indirect homage to the artists of days gone by who continue to tug at our heartstrings in all the right places.
Hailing from Edmonton, Alberta and now positioned in Montreal, The City Streets are a rare and unique breed, remaining unscathed from the all too often dogmatic music industry approach, managing to nurture a talent that is both raw and accessible. They have released two full length albums These Things Happen and Concentrated Living as well as an EP called If you don't like The Clash you're a bad person.
"You can blame the advent of irony, generational disillusionment or simply changing tastes but heart-on-it's-sleeve rock 'n' roll often seems in short supply these days. In that sense a band like The City Streets could be looked on as musical freedom fighters, offering a version of rock 'n' roll that shows possibilities rather than dead ends, recklessness over restraint. They're sensitive fuck ups, these boys, and The Jazz Age catches them at their most fragile and out-of-control." - SEE Magazine
"This group is Alberta's only hope" - CBC Radio 3
Recorded with Jesse Gander (Ghost House, Bison, DBS) and mastered by JJ Golden (The New Pornographers, Sonic Youth, Eleni Mandell), The Jazz Age (out on June 1st) is 13 tracks about about fading beauty, strange madness, romantic idealism, glory nights, inherited sadness, epic failure, and love.
"Their songs—a tight mix of the hard social message of the Clash and the twang of Wilco—are spectacular" - VUE Weekly (cover story)
"Some Clash, some early Costello, a bottle of whiskey and you've got some idea where these hearts-on-their-sleeves, punk prairie boys are coming from." - NOW Magazine
The City Streets have toured North America extensively, visiting almost every province and state at least once with stops at SXSW, NXNE, CMW, Pop Montreal, Halifax Pop Explosion, a week long stint in NYC with shows at CBGB's and The Knitting Factory and a show in Juarez, Mexico. Comprised of Rick Reid (lyrics, vocals, guitar), Matt Leddy (bass, backup vocals), and Mark Chmilar (drums), catch the band live on one of their stops below, buy their album, and offer them a place to crash on your floor. Bands like this don't come around very often.
June 5th – Montreal, QC – L'Esco
June 7th – Toronto, ON – The Drake Hotel
June 9th – Chicago, IL – Ronnys in Logan Square
June 10th – Minneapolis, MN – Karnak Gallery
June 10th – Minneapolis, MN – Shuga Records
June 10th – Minneapolis, MN – Nomad World Pub
June 11th – Saskatoon, SK – Caffe Sola Backroom
June 12th – Edmonton, AB – Pawn Shop
June 17th – Calgary, AB – Dicken's Pub
June 19th – Driftpile, AB – North County Fair
June 20th – Driftpile, AB – North County Fair
June 23rd – Yorkton, SK – The Spot Nightclub
June 25th – Winnipeg, MB – The Cavern
June 26th – Chicago, IL – Reggie's Music Joint
August 26th – New York, NY – Sidewalk Café
August 27th – New York, NY – Arlene's Grocery
August 28th – New York, NY – Shea Stadium
For music including the single 'Last Waltz Party' and more info please visit:
www.myspace.com/citystreets