QUADRON TO PERFORM ON KCRW'S 'MORNING BECOMES ECLECTIC' MONDAY, JUNE 7
BAND TO PLAY FREE SHOW AT AMOEBA MUSIC IN HOLLYWOOD AT 5PM ON SUNDAY, JUNE 6
DANISH DUO TO START U.S. TOUR WITH PERFORMANCE AT UCLA JAZZ/REGGAE FESTIVAL ON SUNDAY, MAY 30
PITCHFORK PREMIERES 'BUSTER KEATON' VIDEO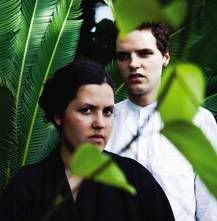 Denmark's
Quadron
, the duo that the New York Post describes as "…a mix of Adele, The Supremes and Sade…" and BBC News calls, "electronic soul music that isn't a contradiction in terms…" is preparing for a busy week in sunny Los Angeles. Performing at the UCLA JazzReggae Festival on Sunday, May 30, the band will then perform a free 5PM in-store concert at Amoeba Music in Hollywood, one of the world's largest independent music stores, on
Sunday, June 6, followed by their U.S. live radio performance debut on public radio station KCRW's groundbreaking 'Morning Becomes Eclectic' at 11:15am on Monday, June 7th.
Pitchfork is premiering Quadron's brand new, Tracemaker-directed video for the track 'Buster Keaton'. View the clip here:
http://pitchfork.com/tv/#/musicvideo/6842-quadron-buster-keaton-plug-research
.
A breakout act in 2010 thanks to forward-thinking radio programmers at stations such as KCRW, Quadron has announced plans for their first official tour of the U.S. Initial dates are listed below.
Quadron Tour Dates:
May 30th JazzReggae Festival at UCLA
June 6th Amoeba in-store Los Angeles, CA
June 7th KCRW Morning Becomes Eclectic Los Angeles, CA
June 11th Mosaic Lounge in San Jose, CA
June 12th The New Parish in Oakland, CA
June 13th Som Bar in San Francisco, CA
June 15th KEXP Live Performance Seattle, WA
June 15th Nectar Lounge in Seattle, WA
June 17th The Fix in Portland, OR
June 23rd Liv in Washington DC, MD
June 24th Southpaw in NY, NY
June 25th Spring 4th in Atlanta, GA
June 26th Venue TBC in Miami, FL
June 29th Johnny Brenda's in Philadelphia, PA
*More dates/in-stores/radio appearances to be announced shortly.
Quadron's self-titled release is available now on Plug Research (
www.plugresearch.com
).
For more info on Quadron, please see
www.myspace.com/quadronquadron
.