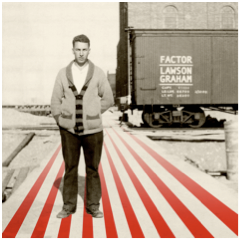 Respect your elders. Some feel that statement is something of a cliché, but not
Factor
. The Canadian producer extraordinaire is poised to breakthrough on May 18th with
Lawson Graham
, his latest release on Fake Four Inc. But as determined as Factor might be, he's not doing so without paying tribute to those who provided a solid foundation to his talent. Lawson Graham, a sharp collection of melodic hip-hop that infuses elements of psychedelics, driving guitars and playful, tongue-in-cheek poetry is an ode to Factor's grandfather whose photo even graces the cover of the record.
When you hear each of the 18 tracks on Lawson Graham, from the spacey, live piano-based title track to the sleek, guitar-heavy groove of 'Battle Scars,' (featuring Def3) you can't help but imagine that Factor's grandfather would be proud of his grandson's musical progression and accomplishments.
"Factor may be one of the hardest working men in Canadian music – and between touring and recording, he's making some serious connections in the hip hop world and beyond." - Planet S Magazine
Rare is a producer that can encompass so many varying sounds and approaches in one record as Factor does. With the help of a stellar and well-rounded cast of fellow Fake Four labelmates, Lawson Graham reaches great heights with ease. 'Missed The Train' (feat. Gregory Pepper) is a relaxed, classic blend of subtle beats and Shins-influenced indie folk. It's a sure-fire contender for musical mash-up of the year, but isn't alone as far as intriguing mixes are concerned. 'More Than Love' (feat. Kirby) features a joyous, upbeat rhythm with a particularly hopeful chorus that could have been a happier Eminem track or a coffee-house guitarist possessed.
Based in Saskatoon, Factor has been crafting top notch hip hop beats over the last 10 years for a who's who list of hip hop artists including Awol One, Myka 9, Busdriver, Aesop Rock, and Xzibit. With the massive blend of influences and styles that are showcased on Lawson Graham, it's only a matter of time before more people realize what a genuine talent Factor possesses as a producer and as a force in hip-hop and indie rock alike. He'll be taking Lawson Graham on the road from July 8th to 25th with a release party June 19th in Saskatoon at Amigos with special secret guests.
For music and more info please visit:
www.myspace.com/factorg
Tracklisting:
01. Bengough Station
02. Missed The Train feat. Gregory Pepper
03. Ain't Nothin' Gonna Change feat. Barfly & Heresy Mae
04. Every Morning feat. Cars & Trains
05. Living In A Vacuum feat. Sole & Radical Face
06. Blown Away
07. Oh Oh Andy feat. Nomad
08. More Than Love feat. Kirby Dominant
09. Mental Illness feat. 2mex
10. PopStravaganza feat. Josh Martinez
11. They Don't Know feat. Pigeon john
12. That's How I Feel About It feat. Myka 9
13. Stoned As You
14. The Fall Of Captain E.O. feat. Ceschi
15. Went Away feat. Moka Only
16. Not What They Seem
17. Battle Scars feat. Def3
18. Lawson Graham