- a soundtrack for summer living -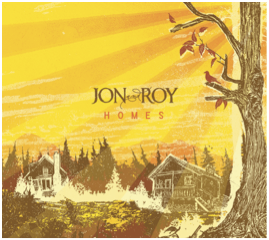 You may think you know
Jon and Roy
. After Another Noon, their critically acclaimed debut was released, you could find Jon and Roy on television commercials, on the airwaves, singing national anthems at Canucks games and touring through a town near you. But on April 13th, with the release of Homes (Pacific Music/Warner), it's time to get to know Jon and Roy all over again. And it's an acquaintance you'll definitely want to make.
Sounding more relaxed yet just as potent as ever, Jon and Roy have managed to top Another Noon with casual, beautifully crafted rhythms and their uniquely deft use of harmonies. And that's just on the first track. "Any Day Now" grows from a murmur to a strong and hopeful track; the way Jon and Roy utilize sly percussion and island acoustics comes off as remarkably natural. Talent the likes of Jon and Roy doesn't come around very often. What's more, they make that talent seem like it's a birthright.
Homes could not have come at a better time. With winter hanging on for dear life, Homes is an album crafted with a relaxed, island vibe, one that seems destined to be played at backyard cook-offs, under gorgeous sunsets and with the love of your life by your side. "Boon Elm," with its rustling melody will find its way onto road trips everywhere. "Oh, It Seemed" finds Jon and Roy rubbing shoulders with Jack Johnson, presenting a slightly funky acoustic feel. And 'Homemade Shirts' moves with dueling violins and a staple of their live show. It's almost as if, as the sun begins to set, Homes begins to pick up steam. If Another Noon was a sleeper hit, then Homes will be the album that puts Jon and Roy on the map.
No strangers to the industry, Jon and Roy have been on four national tours, playing festivals such as Ottawa Bluesfest, Vancouver Jazz fest, Victoria Folk festival, CMW, NXNE, Rifflandia, Junofest and more. Homes is their third full length and tunes from Another Noon were featured in TV shows such as Departures, HBO's Less Than Kind, MTV's Peak Season and The Buried Life as well as Warner's big budget surf movie The Drifter. For all their relaxed, reggae-inspired jams, Jon and Roy certainly are some busy folks.
"A word to those who haven't been paying attention thus far: Now might be a good time
to familiarize yourself with folk phenoms Jon and Roy." - Victoria Times Colonist
Homes, the record we'll be hearing all summer long, is one for everyone. No doubt the kids will be able to get down with the affable groove of "It's Gonna Be Fine" while lovers will find themselves closing down their favourite gin joint with the last dance vibe of "Body's Warm." There's truly something for everyone on Homes. If you don't know Jon and Roy, get on board now. And if you do, you're in for another treat.
Catch the band live on their CD Release tour dates:
April 15th – Roberts Creek, BC – The Wild Bistro
April 16th – Kelowna, BC – Habitat
April 17th – Vancouver, BC – The Venue
April 18th – Whistler, BC – Telus Ski & Snowboard Festival Mainstage
April 22nd – Edmonton, AB – Starlite Room
April 23rd – Saskatoon, SK – Vangelis Tavern
April 24th – Winnipeg, MB – Folk Exchange
For music and more info please visit:
www.jonandroy.ca