The
Weatherstar
front is chock-full of news today. For starters, the band is set to release its debut EP, a self-titled release set for May 4th. The debut track, "Postcards," can be listened to at myspace.com/weatherstar. A free download of "Postcards" is available via "tweet for a track" at
twitter.com/_weatherstar_
. Full track listing and album art are included below, with a digital press servicing to be unveiled later this week.
Weatherstar EP Track Listing:
1. Postcards
2. Sick of Tonight
3. Weather or Tonight
4. Planes Ocean & Symphonies
5. Wish You Would Stay
6. What Was I Thinking
In addition, Weatherstar will be giving away a free acoustic EP, starting today via
weatherstar.bandcamp.com
. This EP, simply titled Acoustic, includes an alternate version (acoustic version of course) of "Postcards" plus two additional tracks.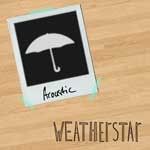 Acoustic EP Track Listing:
1. Postcards (Acoustic)
2. Rainy Day
3. All in Your Head
LINKS:
http://www.myspace.com/weatherstar
http://weatherstar.bandcamp.com
http://twitter.com/_weatherstar_