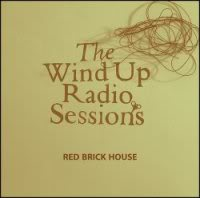 They say absence makes the heart grow fonder. Whether or not that's true, spending time away from those close to you usually brings forth a wave of emotion. For Marc and Dan Kiely, brothers from the outskirts of the blue-collar hum of Hamilton, Ontario, they channeled these emotions into what would eventually become The Wind Up Radio Sessions, the latest in a long line of gorgeous and lush folk-pop emerging from north of the 49th parallel.
While exploring their own paths in life, Marc and Dan rarely saw each other. When they did however, they communicated through songs. They laid down dozens of home recordings which would serve as the framework for the band and slowly but surely, things were happening for the Kiely brothers.
Then, after moving to the creative hub of Montreal, all the pieces of the The Wind Up Radio Sessions fell into place. With Matt Lazenby, the three began pooling their collective musical interests and ideas into a seemingly perfect collaboration. Taking their precisely-crafted folk musings into the studio, the result is Red Brick House, out on March 23rd via No Map Records.
"...one of Montreal's finest up-and-coming bands" - Meet You At The Show
"This is an album that grows on you more and more with each listen" - NxEW
With influences ranging from Tom Waits to Wilco and Neil Young, standout tracks like 'Me And My Doe', 'Oh Well' and 'Photocopies' expose the band's gutsy and honest approach, their lack of musical pretentions and a sincerely deft touch. Having already gigged at legendary Canadian venues The Wind Up Radio Sessions are poised to bring their folk-pop expertise across Canada.
For music and more info please visit:
www.myspace.com/thewindupradiosessions
'Me And My Doe' video here:
http://www.youtube.com/watch?v=pcdms0WS1Ow