BAND TO HEADLINE KEDJ NEW YEARS BLOCK PARTY IN SCOTTSDALE, AZ ON 12/31
MASSIVELY MASSIVE OVERSEAS TOUR KICKS OFF JAN 14TH IN RUSSIA
FANS CAN EXPECT NEW ALBUM THIS SUMMER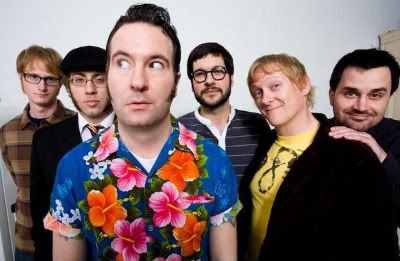 Reel Big Fish had a bang-up 2009 with not ONE, but TWO releases: the studio album, Fame, Fortune, and Fornication and the Live! In Concert! DVD, as well as a U.S. tour with Two-Tone legends The English Beat. Now, the perennial Ska Masters will be ringing in the holidays with a series of three Southern California shows (LA, OC and San Diego) that the band is dubbing the Winter Informal, and a headlining gig at the KEDJ-sponsored, Ultimate New Years Eve Block Party in Scottsdale, AZ on 12/31.
In 2010, the 'Fish will play a short string of US dates before kicking off a ginourmous overseas tour that will find them playing for audiences in Russia, the UK, Scotland, Holland, Germany, Austria, Switzerland and Australia. The tour kicks off January 14 in St. Petersburg, Russia and wraps up March 5th in Honolulu, HI.
Formed in the 'burbs of Orange County, CA in the early 90's, Reel Big Fish has gone on to release 6 full-length studio releases, headline countless tours all over the world and amass combined sales of over a million albums.
Reel Big Fish is currently holed up in the studio, working on a new album to be released this summer.
Reel Big Fish's Live! In Concert DVD and the studio album Fame, Fortune, and Fornication are both available now.
Reel Big Fish On Tour:
Dec 27 2009
Hollywood, CA @ House of Blues
Dec 28 2009
Anaheim, CA @ House of Blues Downtown Disney
Dec 29 2009
San Diego, CA @ House of Blues
Dec 31 2009
Scottsdale, AZ @ Scottsdale's Ultimate Block Party
Jan 6 2010
Portland, OR – Roseland Theater
Jan 7 2010
Spokane, WA – Knitting Factory
Jan 8 2010
Boise, ID – Knitting Factory
Jan 9 2010
Murray, UT – Murray Theater
Jan 10 2010
Reno, NV – Knitting Factory
Jan 14 2010
Russia/ St. Petersburg @ Glavclub
Jan 15 2010
Russia/ Moscow @ Glavclub
Jan 17 2010
UK @ Plymouth University
Jan 18 2010
UK @ Bristol 02 Academy
Jan 19 2010
UK @ Portsmouth Pyramids
Jan 20 2010
UK @ Oxford 02 Academy
Jan 21 2010
UK @ Norwich UEA
Jan 22 2010
UK @ Manchester Academy
Jan 23 2010
Scotland @ Glasgow 02 Academy
Jan 24 2010
UK @ Newcastle 02 Academy
Jan 25 2010
UK @ Birmigham 02 Academy
Jan 26 2010
UK @ Leeds Metropolitain Uni
Jan 27 2010
UK @ Nottingham Rock City
Jan 28 2010
UK @ London Koko
Jan 29 2010
UK @ London Koko
Jan 30 2010
Belgium @ Brussels Botanique
Jan 31 2010
Holland @ Utrecht Tivoli
Feb 1 2010
Holland @ Eindhoven Effenaar
Feb 2 2010
Germany @ Hamburg Grunspan
Feb 3 2010
Germany @ Berlin Magnet
Feb 4 2010
Germany @ Frankfurt Batschkapp
Feb 5 2010
Germany @ Stuttgart Wagenhalle
Feb 6 2010
Germany @ Munster Sputnikhalle
Feb 7 2010
Germany @ Koln Gloria
Feb 8 2010
Germany @ Munich backstage
Feb 9 2010
Austria @ Graz Orpheum
Feb 10 2010
Austria @ Vienna Arena
Feb 11 2010
Swizterland @ Zurich Abart
Feb 20 2010
Australia @ Soundwave Festival 2010 Brisbane
Feb 21 2010
Australia @ Soundwave Festival 2010 Sydney
Feb 26 2010
Australia @ Soundwave Festival 2010 Melbourne
Feb 27 2010
Australia @ Soundwave Festival 2010 Adelaide
Mar 1 2010
Australia @ Soundwave Festival 2010 Perth
Mar 5 2010
Honolulu, HI – Pipeline Café
For more information see
www.myspace.com/reelbigfish