WE ARE THE IN CROWD ON TOUR
NEW SINGLE "FOR THE WIN" AVAILABLE NOW ON iTUNES
BAND ON TOUR: NEW JANUARY DATES WITH SECRET SECRET DINO CLUB ANNOUNCED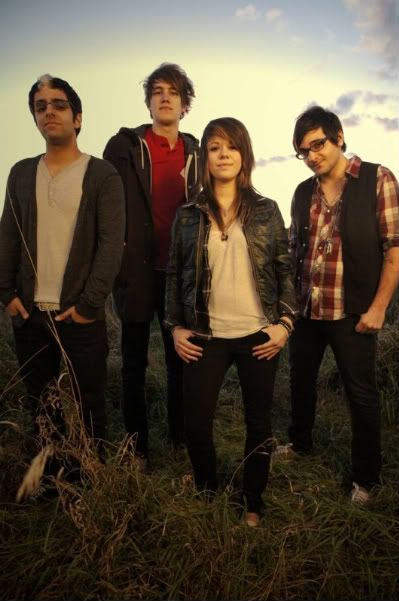 Hopeless Records latest signing
We Are The In Crowd
is on tour now with Select Start and Action Item. New January 2010 dates with Secret Secret Dino Club have just been announced (see dates below).
The Poughkeepsie, NY four piece's current single, "For The Win" is available now on iTunes. The track was featured in an episode of MTV's The Hills earlier this month.
Armed with a unique combination of both male and female vocals, We Are The In Crowd has created frank, emotional pop rock songs that embody everything that you want to say but don't know how. This honest depiction of young adult trials and tribulations has helped We Are The In Crowd gain a rabid fan base that hangs on every word and every chord.
For more info on the band see
www.myspace.com/wearetheincrowd
.
Catch We Are The In Crowd On Tour:
[w/ Select Start and Action Item]
11/30/2009 Jermyn, PA – Eleanor Rigby's [w/ TBA]
12/02/2009 Wilmington, NC – Soapbox Laundro Lounge [w/ Action Item ONLY]
12/03/2009 Jacksonville, FL – The Pit
12/04/2009 Tampa, FL – Czar
12/05/2009 Pembroke Pines, FL – The Talent Farm
12/06/2009 Ft. Myers, FL – Ethos
12/10/2009 Marietta, GA – Swayze's
12/11/2009 Charleston, SC – The Oasis
12/12/2009 Virginia Beach, VA – Club Relevant
12/13/2009 South Hackensack, NJ – School of Rock
12/18/2009 Marlboro, NJ – Marlboro Rec Center
[w/ The Hoodies and The Right Coast]
12/29/2009 Hamden, CT – The Space
12/30/2009 Lancaster, PA – The Chameleon
[w/ Secret Secret Dino Club]
*1/22/2010 Westport, CT – Toquet Hall
*1/23/2010 Bedford, MA – Accu-Billiards
*1/24/2010 Amityville, NY – Broadway
*1/26/2010 New York, NY – Studio at Webster Hall
*1/30/2010 Rochester, MI - American Legion Hall
*1/31/2010 Toledo, OH – Frankie's
*2/02/2010 Jeannette, PA – Keynote Café
*2/03/2010 Allentown, PA – Crocodile Rock Café
*2/04/2010 Wilkes-Barre, PA – Café Metropolis
*2/05/2010 Vineland, NJ – Hangar 84
*2/06/2010 Freehold, NJ – Freehold VFW