www.myspace.com/twinatlantic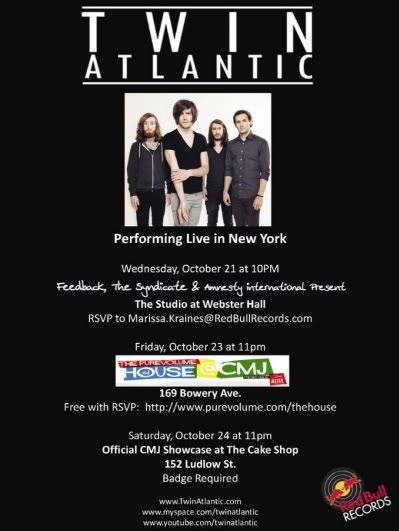 Glaswegian rockers Twin Atlantic recently released their debut mini-album Vivarium. After sharing stages with the likes of Smashing Pumpkins, Circa Survive and Taking Back Sunday on top of impressive performances at Download Festival and T in the Park, the band has already received an enthusiastic response from fans and critics alike. The band will tour the US this fall, dates to be announced soon.
Check out videos for the band's latest tracks "Lightspeed" and "What is Light? Where is Laughter," which showcase their explosive live show, and more at
www.youtube.com/twinatlantic
or
www.twinatlantic.com
.
"This is what you want to listen to when you're about to do something big."
– Nylon Magazine
"There's something gloriously impassioned about Sam McTrusty's vocals. Yearning, searching, hoping and, above all, real. It's a trait reflected in the music his band make. Inventive and thrusting it always goes somewhere, building from pointed beginnings into something more transcendent."
– Kerrang!
"They are, quite simply, the most exciting new rock band to emerge in years."
– News of the World