(New Rochelle, NY) – Stage dive into spring with the Jägermeister Music Tour! Jägermeister is teaming up with legendary American punk band, Pennywise and dub rock trio, Pepper for this year's spring Jägermeister Music Tour. The tour kicks off on April 13th in Seattle, Washington.
Pennywise (http://www.myspace.com/pennywise) is one of the most significant bands to emerge from Southern California punk's second wave. The Pennywise current line-up, which has remained constant since 1996, consists of Jim Lindberg (vocals), Fletcher Dragge (guitar), Randy Bradbury (bass) and Byron McMackin (drums). Formed in 1988 in Hermosa Beach, California, Pennywise have released nine-full length studio albums, one live album, two extended plays and one DVD. Their most recent studio album is Reason to Believe, which was released to over 500,000 fans for free through a limited-time offering from their new label, MySpace Records. The critically acclaimed album was also sold physically and digitally the world over. The Western World, the first single from this watershed album, became the most successful single of the band's storied career.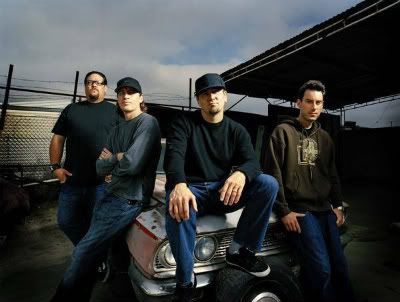 Pepper will rejoin the Jägermeister Music Tour once again to feature their fifth studio album Pink Crustaceans and Good Vibrations and to support their forthcoming live release, Kona Gold, due in April 2009. Both albums exemplify the band at their most eclectic and capture the essence of the Kona Boys decade of exploits living on the mainland, while exposing them as seasoned veterans of rock. Pink Crustaceans and Good Vibrations is the band's first endeavor under the umbrella of LAW Records, their own record label, in association with Controlled Substance Sound Labs/MRI distribution. The forthcoming live album, Kona Gold, reunites the band with surf/skate vanguard Volcom Entertainment for the latest release which features Pepper live in August of 2009 at Boulder, Colorado's intimate Fox Theatre. The Pepper trio consists of Bret Bollinger (vocals/bass), Kaleo Wassman (vocals/guitar) and Yesod Williams (drums/vocals).
Pepper has sold over 400,000 records independently and enjoyed two top 20 singles- Give it Up –(Dirty Hot Sex) from 2002's Kona Town, and No Control from 2007's No Shame. Their music has appeared in many movies, television and video game soundtracks and they have a number of album tracks appearing on the Billboard "Hot Modern Rock Tracks" chart.
"I grew up listening to Pennywise in Kona because they would always be featured on Taylor Steele surf videos," says Yesod Williams, drummer for Pepper. "It was our soundtrack we'd listen to while heading to the beach. Co-headlining this tour with them is a milestone, then you get Jägermeister involved and the party will never end!"
"After 15 years of paying for Jägermeister shots, it will be nice to finally get a couple on the house" said Fletcher Dragge, guitarist for Pennywise.
"Jägermeister is thrilled to be once again to be working with Pepper," said Bill Henderson, Senior Vice President of Marketing and Advertising for the Sidney Frank Importing Company. "Having both Pennywise and Pepper on the same bill is something we've been dreaming about for a long time."
The Tour will rock through the end of May and each show will be rounded out with a local Jägermeister sponsored band. On the road since 2002, The Jägermeister Music Tour, now produced by GMR Entertainment, has become THE rock show to see. For less than $30 a ticket, fans not only have the opportunity to experience a great show, but also have a chance to snag some great Jägermeister prizes and giveaways like JägerMusic compilation CDs, as well as plenty of Jägermeister shirts, hats and more. Other prizes provided by Tour sponsors include custom items from Schecter Guitars, and Peavey Electronics and JVC Mobile Entertainment.*
4/13/09 Showbox SoDo Seattle, WA
4/14/09 Roseland Theater Portland, OR
4/16/09 In The Venue Salt Lake City, UT
4/17/09 The Fillmore Auditorium Denver, CO
4/18/09 Beaumont Club Kansas City, MO
4/19/09 Pop's Sauget, IL
4/20/09 The Blue Note Columbia, MO
4/22/09 Verizon Wireless Theater Houston, TX
4/23/09 Palladium Ballroom Dallas, TX
4/25/09 Stubb's Waller Creek Amphitheatre Austin, TX
4/27/09 Tabernacle Atlanta, GA
4/28/09 House of Blues North Myrtle Beach, SC
4/30/09 House of Blues Lake Buena Vista, FL
5/2/09 Jannus Landing Saint Petersburg, FL
5/3/09 Plush Jacksonville, FL
5/13/09 9:30 Club Washington, DC
5/14/09 The Electric Factory Philadelphia, PA
5/15/09 Starland Ballroom Sayerville, NJ
5/16/09 Terminal 5 New York, NY
5/17/09 House of Blues Boston, MA
5/19/09 Agora Theatre Cleveland, OH
5/20/09 The Crofoot Ballroom Pontiac, MI
5/21/09 House of Blues Chicago, IL
5/22/09 The Eagles Club Milwaukee, WI
5/23/09 Myth St. Paul, MN