BAND SET TO EMBARK ON OVERSEAS TOUR WITH PROTEST THE HERO THIS MONTH
SOPHOMORE RELEASE, MIDHEAVEN, AVAILABLE NOW ON HOPELESS RECORDS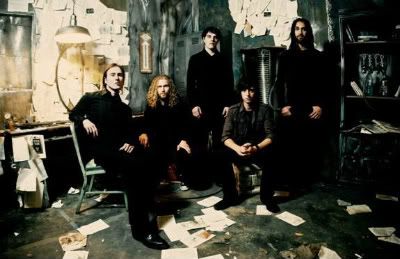 February 12, 2009—The Human Abstract, fresh from completing separate tours with Trivium, All That Remains, Japanese rockers Dir En Grey, and most recently, having just wrapped this week, As I Lay Dying, is now preparing to embark on yet another jaunt, this time a series of European dates with Protest the Hero, and The Chariot.
The Human Abstract will then head out on a U.S. headlining tour in the spring with Oh, Sleeper, Iwrestledabearonce, and Vanna opening; tour kicks off April 30 in Anaheim, California at Chain Reaction.
Touring in support of Midheaven, The Human Abstract has found critical praise from several noteworthy tastemakers.
"The Human Abstract is here to stay, rocking out and showing the scene what a modern metal record should sound like." Absolute Punk.net
"Many memorable melodies that you will wait for and sing to when playing this album front to back." Abort Mag
"The songs on Midheaven are epic and cinematic."
Metalsucks.net
For more information on The Human Abstract see
www.myspace.com/thehumanabstract
. .
The Human Abstract with Protest the Hero, and The Chariot UK Tour Dates:
2/27/09 Karlsruhe, Germany – Stadtmitte
2/28/09 Koln, Germany – Underground
3/01/09 Hamburg, Germany – Hafenklang
3/02/09 Hasselt, Belgium - Muziekodroom
3/03/09 Plymouth, UK – White Rabbit
3/04/09 Leeds, UK – Rios
3/05/09 Glasgow, UK – Ivory Blacks
3/06/09 Sheffield, UK – Corporation
3/07/09 Nottingham, UK – Rock City
3/08/09 Milton Keynes, UK – The Pitz Club
3/09/09 London, UK – Underworld
3/10/09 Nijmegen, Holland – Doornroosje
3/11/09 Paris, France – Batofar
3/12/09 Lyon, France – Double Six
3/13/09 Barcelona, Spain – Rocksound
3/14/09 Madrid, Spain – Ritmo Y Compas
3/15/09 Lisboa, Portugal – Music Box
3/16/09 Basque, Spain – TBA Venue
3/17/09 Colmar, France – Le Grillen
3/18/09 Aarau, Switzerland – KiFF
3/19/09 Rome, Italy – Init
3/20/09 Bologna, Italy – Estragon
3/21/09 Henndorf bei Salzburg, Austria – Wallerseehalle [Spring Metal Fest]
3/22/09 Prague, Czech Republic – Futurum
3/23/09 Munchen, Germany – Feierwerk
3/25/09 Berlin, Germany – Magnet
3/26/09 Riga, Latvia – Melna Piektdiena
3/27/09 Tallinn, Estonia – Tapper
3/29/09 Helsinki, Finland – Nosturi [w/ The Chariot ONLY]
The Human Abstract U.S. Headlining Tour Dates:
4/30/09 Anaheim, CA – Chain Reaction
5/01/09 San Diego, CA – Soma Sidestage
5/02/09 Phoenix, AZ – Phix Gallery
5/03/09 Albuquerque, NM – Launchpad
5/05/09 Dallas, TX – The Door
5/06/09 Houston, TX – The Java Jazz
5/07/09 Metairie, LA – High Ground
5/08/09 Orlando, FL – The Social
5/09/09 Douglasville, GA – The 7 Venue
5/10/09 Charlotte, NC – The Casbah at Tremont Music Hall
5/12/09 Baltimore, MD – The Ottobar
5/14/09 Farmingdale, NY – The Crazy Donkey
5/15/09 Montreal, QC – Underground
5/16/09 Toronto, ON – Reverb
5/17/09 Pontiac, MI – Mill Street Entry
5/19/09 Tinley Park, IL – Mojoes Rock House
5/20/09 St. Louis, MO – FUBAR
5/22/09 Denver, CO – Marquis Theatre
5/23/09 Salt Lake City, UT – Avalon Theater
5/25/09 Modesto, CA – Modesto Virtual
5/26/09 Bakersfield, CA – Jerry's
5/27/09 Fresno, CA – The Exit
5/28/09 Hollywood, CA – Knitting Factory Hollywood
[From: EARSHOT MEDIA]