LET THE GAMES BEGIN NOW STREAMING ON MYSPACE
FREE YOUR MIND EP TO RELEASE MARCH 10
EP AVAILABLE NOW FOR PRE-ORDER
BAND CURRENTLY ON TAKE ACTION TOUR WITH CUTE IS WHAT WE AIM FOR, BREATHE CAROLINA, MEG & DIA, AND EVERY AVENUE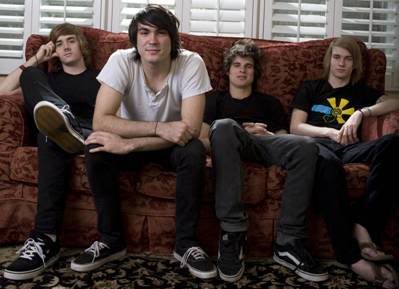 Phoenix, AZ pop-rock band Anarbor has just released "Let The Games Begin", the first track off their upcoming Hopeless Records EP, Free Your Mind. The track is currently available for streaming on the bands MySpace page. Anarbor's seven-track EP will release on March 10th and is currently available for pre-order online and on tour.
Stream Let The Games Begin
http://www.myspace.com/anarbor
Pre-order Anarbor's New EP, Free Your Mind
http://smartpunk.com/category.php?page=search&any=anarbor&stype=all
Anarbor is currently on the 2009 Sub City Take Action Tour, Presented by FYE. The 2009 lineup features headliner Cute Is What We Aim For, along with Breathe Carolina, Meg & Dia, and Every Avenue. The annual nationwide charity tour, now in its eighth year, raises funds and awareness for youth involvement in charitable action.
Anarbor Tour Dates
[Take Action! Tour w/ Cute Is What We Aim For, Meg & Dia, Breathe Carolina, Every Avenue]
2/24/09 Charlotte, NC – Tremont Music Hall
2/25/09 Raleigh, NC – The Brewery [w/ Breathe Carolina, Every Avenue ONLY]
2/26/09 Atlanta, GA – Masquerade
2/27/09 Myrtle Beach, SC – House of Blues
2/28/09 St. Petersburg, FL – The State Theatre
3/01/09 Ft. Lauderdale, FL - Revolution
3/02/09 Lake Buena Vista, FL – House of Blues
3/03/09 Gainesville, FL – 1982 Bar [w/ Breathe Carolina, Every Avenue ONLY]
3/04/09 Pensacola, FL – American Legion
3/05/09 Houston, TX – Warehouse Live
3/06/09 San Antonio, TX – The White Rabbit
3/07/09 Austin, TX – Emo's
3/08/09 Dallas, TX – House of Blues
3/10/09 Tucson, AZ – Rialto Theatre
3/11/09 Tempe, AZ – Marquee Theatre
3/13/09 Hollywood, CA – House of Blues
3/14/09 San Diego, CA – House of Blues
3/15/09 Las Vegas, NV – House of Blues
3/16/09 Anaheim, CA – House of Blues
3/17/09 Orangevale, CA – Boardwalk [w/ Breathe Carolina, Every Avenue]
3/18/09 Sparks, NV – The New Oasis
3/19/09 San Francisco, CA – The Fillmore
3/21/09 Portland, OR – Hawthorne Theatre
3/22/09 Seattle, WA – El Corazon
3/23/09 Spokane, WA – Knitting Factory
3/24/09 Salt Lake City, UT – Murray Theater
3/25/09 Englewood, CO – Gothic Theatre
3/26/09 Omaha, NE – Sokol Underground [w/ Breathe Carolina, Every Avenue]
3/27/09 St. Paul, MN – Station 4
3/29/09 Milwaukee, WI – The Eagles Club
3/30/09 Chicago, IL – House of Blues
3/31/09 Columbus, OH – Newport Music Hall
4/01/09 Cincinnati, OH – Bogart's