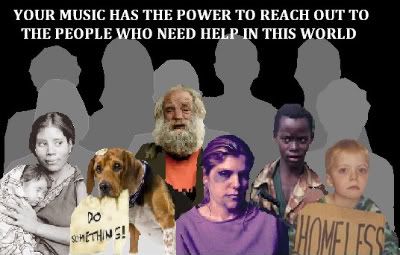 I am looking to start up a monthly/bi monthly charity show in Toronto and I need bands that are willing to play for free/a minimal percent of the door/drinks (depending on how well known you are etc. etc.)
I plan on gaining a large roster of bands to rotate each show or who can play whenever they are in the area, and then find a venue willing to donate one day a month/every other month for this event.
It will be for different charities each time, there's a lot of people who need help in this world.
FYI: I am not making any money off of this at all, 100% of profits will be donated.
If you're a band who wants to help me out, please email me! Any other help would be greatly appreciated!
You have the ability to reach out to those in need while doing what you love to do. So do it!