ATTENTION TORONTO!
What are you doing Saturday night?
How about checking out Watstock (read carefully, it's NOT Wakestock) 2008 at the El Mocambo...
Show starts at 8pm, the line up is fucking wicked...
Featuring
Shortwave
We are the Take
Public
Turn Off The Stars
The Waking Eyes
Below the poster I have copied what Watstock is all about, so give it a read, it's for a really great cause.
Hope to see you all there!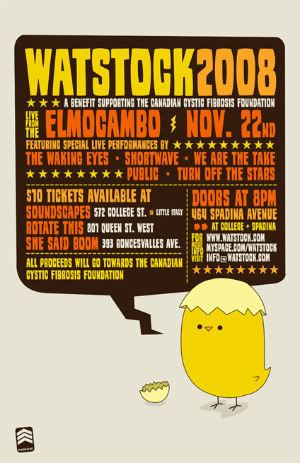 From
Watstock.com
...

About Watstock
It all began in Watson's backyard....

Watstock is an annual music festival and social gathering, created both to showcase up and coming Canadian Indie Musicians and raise funds and awareness for the Canadian Cystic Fibrosis Foundation.

The event began as a weekend "festival" put on by David Watson at the Watson family home in Barrie. The weekend consisted of tenting, partying and a healthy dose of awesome music at Molson Park. The concept was changed in 1998 when Dave organized a much larger music event at his sister's farm. Not only did people get there, get wobbly, get down and get it on, the event also raised money for Canadian Cystic Fibrosis Research. After a brief hiatus, Watstock experienced unforgettable revivals in 2005 and 2006 when it was hosted at Andrew Bowie's farm in Frankford, Ontario. Sunshine, thunder, dance, food, good vibes and a weekend of great music brought fans both new and old together again.

In 2007, Watstock brought its magic even closer to the people, dropping into the El Mocambo Tavern in Toronto on Saturday, October 27. With an impressive shortlist of bands on the bill, the event was a smashing success.

We are happy to announce that once again we are partnering with Toronto's historic El Mocambo Tavern to bring you Watstock 2008. On Saturday November 22nd the first floor of the El Mo will be hopping with CF supporting, music lovers just like you. Doors at 8pm.